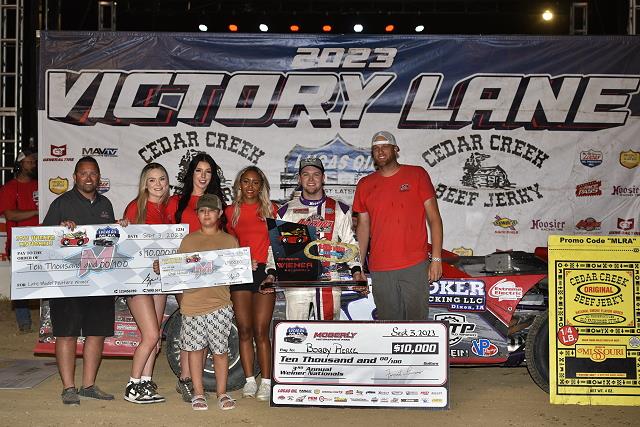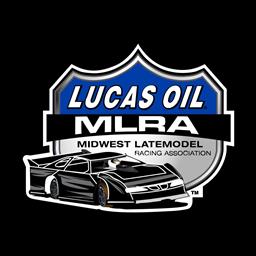 ---
Total Domination--Pierce Scores $10,000 Win In 3rd Annual Wiener Nationals
Moberly, MO (September 3, 2023) – Bobby Pierce showed total dominance on Sunday night in what was a picture perfect evening in the running of the 3rd Annual Wiener Nationals at the Moberly Motorsports Park.
Pierce pulled the clean sweep on the night, starting off by grabbing the $1,000 MyRacePass Quick Time Award, followed by a heat race win that placed him on the pole for the nights 30 lap main event.
Pierce started alongside of Jeff Herzog and wasted no time in showing that he would have the car to beat from the drop of the green flag, but it was all for not on the opening lap when third starting Mason Oberkramer spun in front of field in the first turn bringing out the nights first of four cautions.
Pierce would bring the field to the green once again and jumped out to a full straight a ways advantage in just a handful of laps with MLRA rookie Dillon McCowan holding down the second spot. The only thing to slow Pierce on the night was a heavy pack of lapped traffic that allowed McCowan to quickly close in on the leader.
However, for McCowan that opportunity quickly evaporated as once Pierce was able to clear the pack he jump right back out to a considerable advantage, leaving McCowan to scramble his way through the same traffic.
The final caution of the night slowed the field with just 11 laps to go. On the restart, Pierce and his Vic Hill powered Longhorn Chassis quickly left the field as he cruised to his 11th career Lucas Oil MLRA win by a margin of 3.074 seconds, cashing in on the $10,000 main event payday.
Chris Simpson used the final restart to charge past McCowan and held on for a runner up finish for the second consecutive night. McCowan's third place run netted him his second podium finish of the season while MLRA point leader Chad Simpson finished a sold fourth with just three points events remaining on the season.
Justin Duty collected his first top five of the season and rounded out the top five. Duty's late race pass of Jeff Herzog also netted him his second "Swift Springs Move of the Race".
Pierce commented on his at times breath taking run through lapped traffic in saying, "The lapped cars made it a little scary sometimes, I just tried to take my time and get through it the best I could and get some distance on second."
"The car was really good," he continued in Cedar Creek Beef Jerky Victory Lane. "We didn't have to touch it too much tonight with the track staying fast. This is one of the first races in a long time that my dad hasn't been at. They went home to get ready for Eldora, but we were on the phone a little bit tonight. I got to give a huge thanks to my crew and all these fans for coming out here tonight."
Chris Simpson's back-to-back runner up finishes on the weekend helped to erase a run of bad luck on Friday that forced him into a back up car. Coming home in second he said of the run. "Anytime you put a cushion on a race track and Bobby out front your probably not going to pass him. To run second to him I'll take it, and to run 1 – 2 for Hoker. It was good points night for us after we had a bad night on Friday, so we'll take it now."
The 19 year old McCowan continued his strong Sunoco Rookie campaign with another podium run. "After the runs we've been having and the couple three months we've had with bad luck and not having good runs it felt so good to finally be up front mixing it up and having a car good enough to contend with these guys. They were fast and I was definitely able to learn a lot from them tonight. This was my first real big track in a super late model, so I'm extremely excited about our run."
Just three nights remain on the 2023 Lucas Oil MLRA schedule. Up next will be a make-up event on Thursday, October 12th at the Adams County Speedway in Quincy, IL paying $7,000 to win. The season will conclude with back-to-back nights of action at the Tri-City Speedway in Pontoon City Beach, IL on October 13th & 14th with $5,000 and $7,000 to win events respectively.
Moberly Motorsports Park Contingencies 9/3/23
Lap Leaders – Bobby Pierce (1 - 30)
?Cautions – 4
MyRacePass "Overall Fast Time Award" – Bobby Pierce (16.757 sec.)
Performance Bodies "Performer of the Race" – Bobby Pierce
Outerwears Crew Chief of the Race – Zach Huston
MD3 "Hard Charger of the Race" – Jon Melloway (+11)
Swift Springs "Move of the Race" – Justin Duty
Sunoco Race Fuel "Rookie of the Race" – Dillon McCowan
Hooker Harness "11th Place Finisher" – Chad Walter
PEM Racing "4th Place Finisher" – Chad Simpson
Sunoco "Engine Builders Challenge" – Vic Hill
Midwest Sheet Metal "Points Leader Spoiler Challenge" – Chad Simpson
MSD Performance Holley: "1st B-Main NON-Qualifier" – N/A
Lucas Oil MLRA 27 Entries
A Feature 1 30 Laps | 00:31:55.804
32P-Bobby Pierce[1]; 2. 32S-Chris Simpson[4]; 3. 8-Dillon McCowan[5]; 4. 25-Chad Simpson[8]; 5. 15-Justin Duty[11]; 6. 11H-Jeff Herzog[2]; 7. 15S-Clayton Stuckey[13]; 8. 1X-Aaron Marrant[10]; 9. 14G-Trevor Gundaker[12]; 10. 22-Daniel Hilsabeck[6]; 11. 23-Chad Walter[16]; 12. 93-Mason Oberkramer[3]; 13. 14W-Dustin Walker[17]; 14. 26-Glen Powell[18]; 15. 10-TRACY Melloway[20]; 16. (DNF) 3-Jon Melloway[27]; 17. (DNF) 14X-David Melloway[19]; 18. (DNF) 81-Jimmy Dowell[23]; 19. (DNF) 22H-Dustin Hodges[7]; 20. (DNF) 50C-Kayden Clatt[14]; 21. (DNF) 7D-Dusty Leonard[9]; 22. (DNF) 00B-Matt Becker[15]; 23. (DNF) 29-Chandler Moenning[21]; 24. (DNF) 16-Ashlee Lancaster[25]; 25. (DNF) 32-Derek Fetter[24]; 26. (DNF) 14M-Nathan Herne[22]; 27. (DNS) 50-Kaeden Cornell
Heat 1 8 Laps | 00:04:13.000
32P-Bobby Pierce[1]; 2. 32S-Chris Simpson[2]; 3. 22H-Dustin Hodges[3]; 4. 1X-Aaron Marrant[4]; 5. 15S-Clayton Stuckey[9]; 6. 23-Chad Walter[5]; 7. 14X-David Melloway[6]; 8. 14M-Nathan Herne[7]; 9. 16-Ashlee Lancaster[8]
Heat 2 8 Laps | 00:03:40.000
11H-Jeff Herzog[1]; 2. 8-Dillon McCowan[3]; 3. 25-Chad Simpson[5]; 4. 15-Justin Duty[2]; 5. 50C-Kayden Clatt[4]; 6. 14W-Dustin Walker[6]; 7. 10-TRACY Melloway[8]; 8. (DNF) 81-Jimmy Dowell[7]; 9. (DNS) 50-Kaeden Cornell
Heat 3 8 Laps | 00:05:19.000
93-Mason Oberkramer[3]; 2. 22-Daniel Hilsabeck[2]; 3. 7D-Dusty Leonard[1]; 4. 14G-Trevor Gundaker[4]; 5. 00B-Matt Becker[5]; 6. 26-Glen Powell[6]; 7. 29-Chandler Moenning[7]; 8. 32-Derek Fetter[9]; 9. (DNF) 3-Jon Melloway[8]
---
Article Credit: Billy Rock
Submitted By: Billy Rock
Back to News