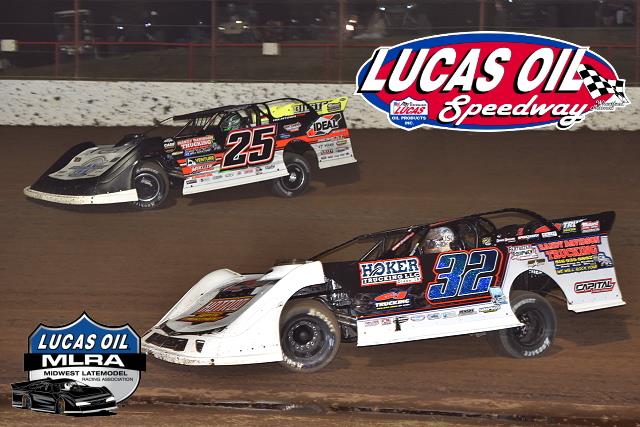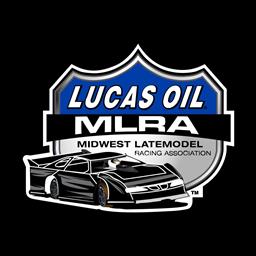 ---
Crowning A Champion: $10k MLRA Season Finale Set For Lucas Oil Speedway
Wheatland, Missouri (October 24th, 2023) – The Lucas Oil MLRA will give it one more go at a season finale this coming Saturday, October 28th, when the series rolls into the Lucas Oil Speedway in Wheatland, MO for the 9th time in 2023. The impromptu season finale comes about after the 4th Annual MLRA Championship Weekend was washed out two weeks ago at the Tri-City Speedway.
The 2023 campaign will come down to a one night stand at the "Diamond of Dirt Tracks", with a $10,000 to win and $700 to start season Finale headlining the nights action.
"Mother Nature has had the upper hand in 2023 with eight total rainouts on our schedule, commented MLRA Series Director Ernie Leftwich. "When we were not able to schedule a return to Tri-City due to scheduling conflicts, we knew coming to Wheatland was our next best option for crowning our series Champion and Sunoco Rookie of the Year on the track. If anyone has the facility to get this show in, it's Danny Lorton and his staff at Lucas. We can't thank them enough for extending their season and putting this event together for the racers and fans alike."
Joining the Midwest Late Model Racing Association (MLRA) will be the USRA Modifieds and POWRi Super Stocks. Each will pay $2,000 to win and follow the same MLRA time trial qualifying format.
CHAMPIONSHIP PICTURE
Chad Simpson enters the finale poised to wrap up his 4th career Lucas Oil MLRA title. The Mount Vernon, Iowa driver holds a 270 point advantage over younger brother Chris Simpson. Chad Simpson will become the first driver to go back-to-back with the MLRA since 2011 – 2012, when John Anderson last completed the feat.
Thus far, in non co-sanctioned MLRA events Chad Simpson has just one finish outside the top 10, that being an 11th place run back in April at the 34 Raceway. His series leading 3 wins also comes with an impressive avg finish of 3.67.
This will mark the 3rd time that the driver of the Deuce Nickel has wrapped up the title at the Lucas Oil Speedway. He polished off his 2018 title in style, by winning the season finale and will try to do so again this weekend. A feature win would send him back to the Hawkeye state with $30,000 in his pocket, with the series champion receiving $20,000.
Brother Chris Simpson holds a comfortable, but not fully secured, 100 point advantage for the series runner-up position over Dillon McCowan. Chris will be seeking his highest finish ever in the season long MLRA standings and is also set to collect a $10,000 payday from the MLRA point fund if he can maintain the advantage over McCowan. Chris Simpson has 16 MLRA wins to his credit dating back to 2009, and will be looking to get the monkey off his back and score his first MLRA win in Wheatland in the finale.
Daniel Hilsabeck and Trevor Gundaker round out the top five. Representing six through ten are Justin Duty, Jeff Herzog, Garrett Alberson, Tyler Stevens, and series rookie Dustin Hodges.
SUNOCO ROOKE OF THE YEAR
McCowan has all but wrapped up the series coveted Sunoco Race Fuel Rookie of the Year award for 2023, fending off a host of drivers in one of the strongest rookie classes in a number of years. The 19 year old from Urbana, MO has three top fives in MLRA action, two of those being third place podium runs coming in just the last 3 MLRA races of the season.
McCowan will be back in familiar territory this weekend as he looks to wrap up the rookie crown, but more importantly he will be looking to score his first career MLRA victory. McCowan scored a $5,000 victory this past Friday at the Super Bee Speedway in Chatham, LA.
TURN-FOUR NOTES
Finale In Wheatland: Saturday will mark the 7th time in the MLRA's storied 35 year history, and first since 2019, that the season finale takes place at the Lucas Oil Speedway. Chad Simpson is the only driver to date to have won both the season finale and Championship in Wheatland on the same night. Series officials have already announced that the 2024 MLRA Championship weekend will return to the Tri-City Speedway.
One-Two Punch: The brotherly due of Chad and Chris Simpson have put up some remarkable stats in 2023. Most impressively may be the fact that the Iowa boys have went 1-2 on four different occasions. Wins for Chad at Davenport, Lake Ozark and Lucas Oil Speedway, with Chris grabbing a "W" in the family affair at Lake Ozark as well. The most recent top two sweep came at Lucas on the final night of the Ron Jenkins Memorial back on September 2nd
Elite Company: A 4th MLRA Championship for Chad Simpson would put him in an elite club of drivers to have won four or more titles. He would join the series winningest driver Terry Phillips with a fourth championship, and trail only Alan Vaughn (5 championships), and Al Purkey (7 championships) in the records books.
Contingency Awards Up For Grabs: Not only will Championship point funds be up for grabs, but a pair of season long contingency awards are still undecided heading into the weekend. A pair of series regulars are knotted up atop the "MD3 Hard Charger" standings in Justin Duty and Jeff Herzog. MD3 will present an overall hard charger worth $500 at the conclusion of the season.
In addition, the MyRacePass "Overall Fast Time Award" it yet to be decided. Chad Simpson is the highest ranking MLRA member driver with two Fast Time Awards, while a number of other drivers are within striking distance with one each.
Purkey To Hall of Fame-- It was announced this past weekend that 7 x MLRA series Champion Al Purkey of Coffeyville, KS will be inducted next summer into the National Dirt Late Model Hall of Fame as part of the 2024 class. MLRA would like to congratulate Al on this well deserved accomplishment.
Lucas Oil Speedway: Wheatland, MO (Race Day Info)--Saturday 10/28/23
Pit Gates: 3:00 PM, Grandstands 4:00 PM
Racing: Hot Laps - 5:30 PM, Racing - 6:05 PM
Admission: Adults (16+) $25, Seniors (62+)/Military $22, Youth (6-15) $10, Kids (5 & Under) FREE, Family Pass $60, Pit Pass $40
Support Classes: POWRi Super Stocks, & USRA Modifieds
Website: www.LucasOilSpeedway.com
---
Article Credit: Billy Rock
Submitted By: Billy Rock
Back to News