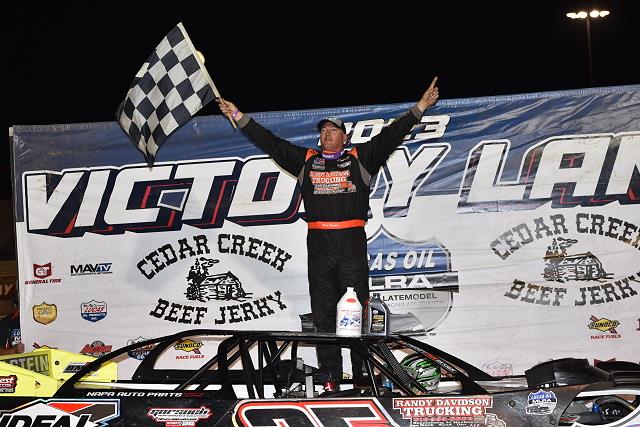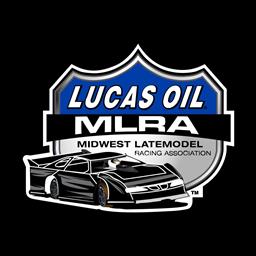 ---
Chad Simpson Tops MLRA Field for $11,000 Ron Jenkins Memorial Win
WHEATLAND, MO. (Sept. 2, 2023) - Chad Simpson cemented his Lucas Oil MLRA championship points lead and enjoyed a lucrative payday on Saturday night at Lucas Oil Speedway.
Simpson, of Mount Vernon, Iowa, led the final 34 of the 40-lap Lucas Oil MLRA Ron Jenkins Memorial Presented by Rugged Radios.
Simpson earned $11,000 for the triumph, including a $1,000 bonus from Mary Jenkins Holt in memory of Ron Jenkins, original builder of Wheatland Raceway. Mary also will awarded a $500 bonus to Simpson as fast-time qualifier on Saturday night.
Simpson beat his brother, Chris Simpson of Oxford, Iowa, by 3.5 seconds for the victory in the 40-lap main event after settling for second the night before.
"Two great nights for us," Simpson said. He increased the points lead to 290 over Chris Simpson with just four MLRA races remaining in pursuit of a repeat series championship and his fourth overall to go with titles in 2014, 2018 and 2022.
"We had a good hot rod, but we started to hurt the right rear tire and I'm glad it's over," Simpson said afterward.
The first seven laps of the MLRA feature saw three lead changes. The Simpson brothers started together on the front row and Chris Simpson led the opening three circuits before Tony Jackson Jr., took over the lead with an inside pass off turn two on lap four.
Three laps later, Chad Simpson moved to the front as he sailed around the outside of Jackson off turn four - just before the race's first caution for a two-car spin at the back of the field.
Chad Simpson executed a flawless restart and rolled to a 1.3-second lead over Chris Simpson before a lap-10 caution for a slowing Aaron Marrant took away that margin. The leader once again set sail as the green flew and, with a clear track ahead, opened a 2.9-second lead by the halfway mark.
That's when the event's third caution appeared as Justin Wells came to a stop on the front straightaway. Daniel Hilsabeck, who started seventh, rallied into third with Dustin Hodges fourth with Jackson in fifth.
By lap 24, Dillon McCowan was in fourth after starting the race 11th and starting to apply pressure to Chris Simpson and Hilsabeck as the slowing car of Jackson led to caution No. 4. Following another caution on lap 27, Chad Simpson soon opened his biggest lead of the race, 2.7 seconds by lap 34.
Simpson encountered lapped traffic the rest of the way, but was able to weave through it to preserve his third MLRA feature win of the season. He beat Chad Simpson by 3.5 seconds as fireworks lit the sky as he took the checkers.
"Early on there, those guys got a little better jump on me but I knew the top would come in eventually, at least a little bit," Chad Simpson said. "Just hats out to all the sponsors who help me on this thing. But this one here, it's big hats off to my crew guy. He told me mid-race to get off the top and get down to the middle and I was able to pull away."
Hilsabeck finished another 3.2 seconds behind Chris Simpson for third, Hodges was fourth and Matt Johnson captured fifth.
"It really dictates off of four," Chris Simpson said of the chance to overtake Chad on the lap-27 restart. "Daniel kind of hooked me on that last restart and got me sideways and let Chad get out. Once he moved to the middle, it was over.
"They've had a good car and congrats to them. Randy Davidson (Trucking) is our sponsor and he got me and Chad one and two, so I'm sure he'll be throwing some beers back here in a little bit."
For the second straight night, Chad Simpson set fast qualifying time. His lap of 15.610 was an omen of things to come as he went on to win his heat and the main event. It was Simpson's fifth overall win of the year.
McCowan, of nearby Urbana, finished sixth and maintained his stronghold on the MLRA Rookie of the Year race. Kaeden Cornell of Willard finished seventh and Cole Wells of Aurora was eighth.
The Labor Day weekend of action will wrap up for the Lucas Oil MLRA on Sunday night at the Moberly Motorsports Park with the running of the 3rd Annual Wiener Nationals. $10,000 will again await the nights winner in Cedar Creek Victory Lane, while all starters will pocket a minimum of $750.
Lucas Oil Speedway Contingencies 9/2/23
Lap Leaders – Chris Simpson (1 - 3), Tony Jackson Jr. (4 - 6), Chad Simpson (7 - 40)
?Cautions – 6
MyRacePass "Overall Fast Time Award" – Chad Simpson (15.610 sec.)
Performance Bodies "Performer of the Race" – Chad Simpson
Outerwears Crew Chief of the Race – Waylon Schultz
MD3 "Hard Charger of the Race" –Justin Duty (+13)
Swift Springs "Move of the Race" – Daniel Hilsabeck
Sunoco Race Fuel "Rookie of the Race" – Dustin Hodges
Hooker Harness "11th Place Finisher" – Trevor Gundaker
PEM Racing "4th Place Finisher" – Dustin Hodges
Sunoco "Engine Builders Challenge" – Pro Power
Midwest Sheet Metal "Points Leader Spoiler Challenge" – Chad Simpson
MSD Performance Holley: "1st B-Main NON-Qualifier" – Justin Duty
Lucas Oil MLRA 35 Entries
Cedar Creek Beef Jerky A-Main 40 Laps | 00:39:36.292
25-Chad Simpson[2]; 2. 32S-Chris Simpson[1]; 3. 22-Daniel Hilsabeck[7]; 4. 22H-Dustin Hodges[5]; 5. 8X-Matt Johnson[15]; 6. 8-Dillon McCowan[11]; 7. 50-Kaeden Cornell[8]; 8. 45-Cole Wells[19]; 9. 15S-Clayton Stuckey[12]; 10. 15-Justin Duty[23]; 11. 14G-Trevor Gundaker[4]; 12. 11H-Jeff Herzog[9]; 13. 7D-Dusty Leonard[21]; 14. 71-Jim Body[14]; 15. 26-Glen Powell[22]; 16. 96-Dalton Imhoff[18]; 17. (DNF) 56JR-Tony Jackson Jr[3]; 18. (DNF) 36-Logan Martin[13]; 19. (DNF) 93-Mason Oberkramer[6]; 20. (DNF) 98-Justin Wells[10]; 21. (DNF) 7B-Mark Burgtorf[16]; 22. (DNF) 1X-Aaron Marrant[24]; 23. (DNF) 2-Tyler Stevens[17]; 24. (DNF) 7J-Jake Morris[20]
FAST Shafts B Main 1 10 Laps | 00:04:58.078
2-Tyler Stevens[2]; 2. 45-Cole Wells[3]; 3. 7D-Dusty Leonard[1]; 4. 15-Justin Duty[6]; 5. 1A-Bryon Allison[5]; 6. 14M-Nathan Herne[10]; 7. 1X-Aaron Marrant[7]; 8. 66-Eli Ross[4]; 9. (DNF) 33F-Rickey Frankel[8]; 10. (DNS) 77-Jeremy Petty
Sunoco B Main 2 10 Laps | 00:09:23.791
96-Dalton Imhoff[1]; 2. 7J-Jake Morris[4]; 3. 26-Glen Powell[3]; 4. 14R-Jeff Roth[5]; 5. 11-Steve Johnson[8]; 6. 19L-Thomas Langley[6]; 7. 42-Johnathan Huston[9]; 8. (DNF) 50C-Kayden Clatt[2]; 9. (DNS) 29-Chandler Moenning
Swift Springs Heat 1 8 Laps | 00:04:43.740
32S-Chris Simpson[1]; 2. 22H-Dustin Hodges[2]; 3. 11H-Jeff Herzog[3]; 4. 36-Logan Martin[5]; 5. 7D-Dusty Leonard[4]; 6. 45-Cole Wells[7]; 7. 1A-Bryon Allison[6]; 8. 1X-Aaron Marrant[9]; 9. 77-Jeremy Petty[8]
MD3 Heat 2 8 Laps | 00:02:50.794
56JR-Tony Jackson Jr[2]; 2. 22-Daniel Hilsabeck[5]; 3. 8-Dillon McCowan[1]; 4. 8X-Matt Johnson[6]; 5. 2-Tyler Stevens[7]; 6. 66-Eli Ross[9]; 7. 15-Justin Duty[3]; 8. 33F-Rickey Frankel[4]; 9. 14M-Nathan Herne[8]
Midwest Sheet Metal Heat 3 8 Laps | 00:05:24.855
25-Chad Simpson[1]; 2. 93-Mason Oberkramer[4]; 3. 98-Justin Wells[3]; 4. 71-Jim Body[9]; 5. 96-Dalton Imhoff[2]; 6. 26-Glen Powell[7]; 7. 14R-Jeff Roth[5]; 8. (DNF) 29-Chandler Moenning[6]; 9. (DNS) 42-Johnathan Huston
Hooker Harness Heat 4 8 Laps | 00:03:00.491
14G-Trevor Gundaker[1]; 2. 50-Kaeden Cornell[2]; 3. 15S-Clayton Stuckey[6]; 4. 7B-Mark Burgtorf[3]; 5. 50C-Kayden Clatt[4]; 6. 7J-Jake Morris[7]; 7. 19L-Thomas Langley[5]; 8. 11-Steve Johnson[8]
---
Article Credit: Lyndal Scranton
Submitted By: Billy Rock
Back to News