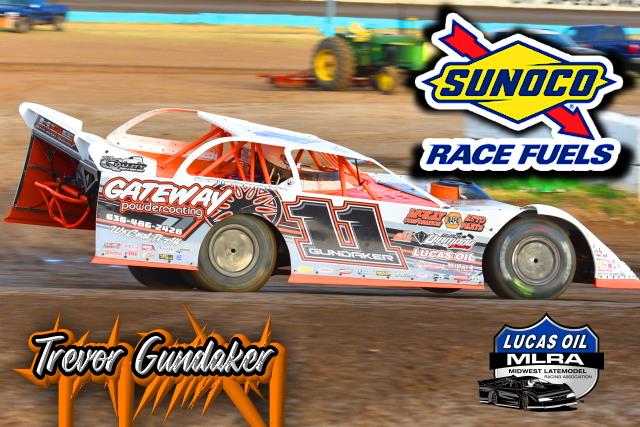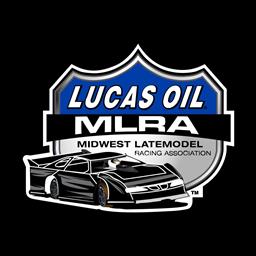 ---
Gundaker Teams With Millard Family Racing to Chase MLRA Rookie Title
Wheatland, Missouri (February 14, 2023) – A season ago, Trevor Gundaker set out with high hopes of chasing the full Lucas Oil Midwest Late Model Racing Association (MLRA) schedule and competing for Sunoco Race Fuels Rookie of the Year honors. But a busy family racing schedule that saw him and brother Gordy going in different directions proved to be challenging, and brought an early end to his points chasing aspirations and forced him to withdraw from the rookie battle.
Fast forward to 2023 and "T-Rev" is back, this time with a new team and even higher expectations for the upcoming season. The 20 year-old driver has teamed up with long time family friend and fellow late model racer Reid Millard in a full time opportunity as part of Millard's Jefferson City, Missouri based race team, 'Millard Family Racing' (MFR).
This will not be the first venture together for Gundaker and Millard, as Gundaker has traveled with the team in recent years serving in both a crew role and a driver of Millard's # 14 at select events. "Reid has been with me since the start of my racing career and we have always been really good buddies. He has always helped me in the past anytime I've ever needed anything, he's just always been there for me," noted Gundaker.
Last October the duo teamed up to win Gundaker's and the team's first career MLRA feature at the Tri-City Speedway after engine troubles forced Gundaker's primary ride to the sidelines for the weekend. With Millard providing the addition crew help and resources that were partially missing in 2022, Gundaker is excited to see what the new team can achieve this season.
"It's going to be really helpful having him, having all of the resources he brings and the resources with my parents as well. It will be nice now to where if we need something we can go get it more or less. It's not like we're going to go out there and get all new stuff and spend a lot of money, but we are going to use our funds and resources wisely to where we are smart in the money spending range, but we are also still using enough resources to be competitive."
In 2022 Gundaker made a total of seven MLRA starts, with a 12th place run topping the charts in his first four starts. But the driver from St. Charles, MO made sure to finish strong, ending the season with three straight top ten finishes including his $5,000 triumph during MLRA championship weekend. "We had good momentum rolling out of last year and definitely learned a lot which is good, and now we have a bit of a notebook heading into Wheatland (Lucas Oil Speedway), Tri-City, and the Lake (Lake Ozark Speedway)."
"I really enjoy going to Wheatland, it's usually a really good feature racing track and you can usually race all over it. Then we go to Granite which is home for me, so I know that place like the back of my hand. The first couple of weekends for us are looking promising more or less, being able to go to race tracks that we know will be really nice."
Adding to a potentially strong start to the season will be an April 13th stop off at the Davenport Speedway in Davenport, IA where Gundaker brought home a strong 4th place finish last season in a field of 39 cars during the Summer Nationals tour.
While he missed out on the majority of the 2022 MLRA schedule, he still capitalized on gaining valuable experience in the open late model ranks by competing in 52 events across the top levels of racing. "When you go out and race against those guys (Lucas & WoO) you have to minimize your mistakes. You've got to be able to go out and qualify and put down two really good times to be able to start up front in a heat race. Going out on the road with them guys and being able to just learn yourself as a driver and learning the car a lot more and how to fine tune on the car helps a lot."
Gundaker has a new Black Diamond Chassis and Pro Power Racing Engine as he heads off to Volusia Speedway Park this week, looking to build on experience in preparation for the upcoming MLRA tour. "We want to be consistent this year. A bunch of the guys that run Lucas and WoO will say you can't win unless you finish, so just being able to keep your head on your shoulders and mindset straight and not getting frustrated at times is a really big part of this deal."
MILLARD FAMILY RACING/TGR RACING MARKETING PARTNERS:
Millard Family Chapels, Bee Seen Signs, Woody Bogler Trucking, Keyser Manufacturing, Performance Bodies, Lucas Oil, McKay Napa Auto Parts, Penske Racing Shocks, Ted Brown's Quality Paint and Body, J&C Properties, Gundaker Commercial Group, Midwest Sheet Metal, 5D Speed Shop, Hooker Harness, Stakt Products, JT Auto Sales, Petroff Towing, Fast Shafts, & Black Diamond Chassis.
CREW: Chris Carter & Robert Archambault
---
Article Credit: Billy Rock
Back to News