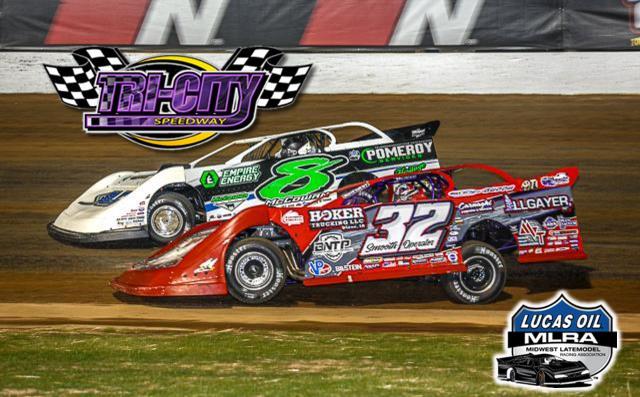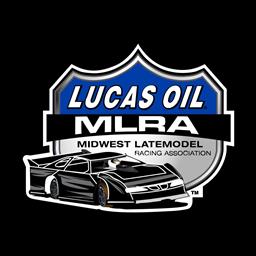 ---
Tri-City Speedway "Winter Meltdown" Next Up For MLRA
Wheatland, Missouri (April 4, 2023) – After a season opening weekend that saw fields of 48 & 50 cars respectively at the Lucas Oil Speedway, expectations are high as the Lucas Oil MLRA heads east this weekend for another double header of action. The Tri-City Speedway in Pontoon Beach, IL will welcome the MLRA for the 1st annual "Winter Meltdown".
The MLRA returns to the 3/8-mile facility for the fourth consecutive season, with the "Winter Meltdown" serving as an early season test before the series returns in October for the annual MLRA Championship Weekend.
Action will get underway on Friday night April 7th, with a $5,000 to win and $500 to start feature event, before drivers buckle in for a $7,000 weekend final on Saturday night April 8th which is also slated to pay $700 to start.
The series opening weekend saw great parity with a total of five different drivers occupying six podium positions over the course of the two-day event. Current Midwest Sheet Metal Point Leader Jonathan Davenport was the lone driver to record back-to-back-podium finishes, but with his scheduled NASCAR debut this weekend he will relinquish the top spot.
This weekend's MLRA action will be a home track stop of sorts for nearby racer Jeff Herzog, who comes into the weekend feeling pretty good after his opening weekend at the Lucas Oil Speedway. The driver from Festus, MO acquired a new to him Capital Chassis in the off season that had just about 10 races on it from a prior owner, and says the weekend went better than expected.
"My main goal for the weekend was just to try and make the show, but heck to win a heat race too was nice. You've got to have a lot of luck too. The track was pretty decent, a little better suited for me for Saturday, I like a tacky track where you've got a couple different lanes. To be able to put this thing together and be able to come out and show as well as we did I was greatly surprised," noted the 44 year-old Herzog.
Since the MLRA returned to the Tri-City Speedway in 2020, no one driver has been able to find the recipe to becoming a repeat visitor to Cedar Creek Beef Jerky Victory Lane, as all five visits have resulted in different winners. Recent winners include veterans Billy Moyer and Brian Shirley, two time MLRA winners Logan Martin and Mason Oberkramer, and current Sunoco Race Fuel Rookie of the Year candidate Trevor Gundaker, who shocked the field one year ago by winning in a car loaned to him by current car owner Reid Millard.
While still in search of his first super late model win at Tri-City, Herzog did manage a runner-up finish in weekly racing action a year ago, and managed a strong 3rd place qualifying effort there during last year's MLRA Championship weekend before coming home in 14th.
"Tri-City has always been a good track, and they always have a good stout field of cars even on weekly shows. You can ask anybody, they give you the same track typically both nights but there is something different and it will throw you for a curve. So one set-up may work one night and the next night not so much. It's definitely a challenging track for sure."
With yet another weekend of high caliber competition expected to converge on Tri-City Speedway Herzog expects qualifying and a little luck to play a huge roll in who walks out the winner this weekend. "You've got to be on top of your game as soon as you pull out onto the racetrack for qualifying. You've got to throw everything, all sheets to the wind and just hope for a dam good lap you know. It's tough having to come from the second row, much less third or fourth to get you into some of these shows especially when they are only taking the top three or top four. That makes it tough."
The season outlook for many drivers will start to take shape over the next two weekends, as the MLRA is set to see five events hit the track in a span of just nine nights. Herzog hopes that he is one of those drivers that walks away with a bright outlook on the long season ahead.
"This is definitely a humbling sport, you take what you can get at any time and count your blessings. It's just crazy how the tide rolls on these shows sometimes, it makes you scratch your head. This sport is ever changing so much and if you're not willing to try something at any given point you may fall behind."
Tri-City Speedway: Pontoon Beach, IL (Race Day Info)--Friday 4/7/23
Pit Gates: 2:00 PM, Grandstands 5:30 PM Racing: Hot Laps - 6:30 PM, Racing 7:15 PM
Admission: Adults $25, Kids (12 & Under) FREE
Support Classes: MARS Modifieds- $2,000 to Win, B-Mods- $1,000 to Win
Website: www.tricityspeedway.net
Tri-City Speedway: Pontoon Beach, IL: (Race Day Info)--Saturday 4/8/23
Gates: 2:00 PM, Grandstands 4:30 PM
Racing: Hot Laps - 5:30 PM, Racing 7:15 PM
Admission: Adults $30, Kids (12 & Under) FREE
Support Classes: MARS Modifieds- $2,000 to Win, B-Mods- $1,000 to Win
---
Article Credit: Billy Rock
Submitted By: Billy Rock
Back to News