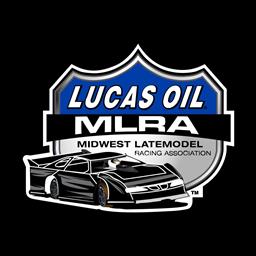 ---
Back Behind The Wheel--Johnathan Huston Joins MLRA Rookie Race
Wheatland, Missouri (February 7, 2023) – Less than a year removed from being a true late model rookie, Johnathan Huston plans to build on what he started a season ago and contend for this year's Lucas Oil Midwest Late Model Racing Association (MLRA) Rookie of the Year. Huston joins Kaeden Cornell as the second driver to officially confirm their commitment to the series with plans on racing full time with the series for Sunoco Race Fuels Rookie of the Year honors.
After making six MLRA starts a season ago, the Columbus Junction, Iowa driver is ready to hit the ground running when the series gets underway in late March at the Lucas Oil Speedway. Huston has worked through the ranks of weekly series racing since 2009, progressing from Mod Lites into the IMCA Modified division before making his big transition into open late modes in July of 2022.
The 34-year old driver made his first ever late model start in last year's 14th Annual "Slocum 50" at the 34 Raceway in West Burlington, IA, finishing a respectable 19th. He followed that up just five weeks later with a season high 9th place in his second ever MLRA start at his home track, the CJ Speedway.
After taking a few years off to help get his family's trucking business off the ground, along with welcoming his first son into the world, he is excited to be back behind the wheel in 2023 chasing the MLRA Rookie of the Year. "We are not to the point yet of wanting to really travel a long long ways," noted Huston. "We feel like the MLRA has some pretty good competition and we feel like their schedule really suits what we are able to do travel wise, so it's just a good fit for us this year."
"Some people may say why didn't you just go weekly racing with the crate at one of our weekly tracks," he noted. "We could do that, but then I feel like if you do that for three or four years you're just going to be starting all over again when you decided to move up to the next level. You're only going to be as good as the competition you race against, so we want to be able to gauge ourselves against the best while trying to learn as quick as we can."
Huston is looking forward to opportunities that this year's MLRA schedule will present his team, including marquee co-sanctioned events with the Lucas Oil Late Model Dirt Series. "Them (MLRA) having a couple of big races like the Show-Me and Gopher 50 that coincide with the Lucas tour, we just thought it would be good to go get some experience. I don't think there is anybody in this deal that is just looking to be mediocre and obviously we have a steep learning curve to go against, but we wanted to go and race against the best there is. There may be someday that we want to go out and travel the country and go toe to toe with these guys."
The driver of the Pro Powered, MB Custom Chassis knows his team will face its share of challenges as they work on gaining experience and seat time. "One of the biggest challenges that I see is just making sure we are on point when we get to the track, both for me as a driver and for our team with our set up. 90% of my laps over my racing career have been at Columbus Jct. or West Liberty Raceway, so to go around to all of these new tracks and unload and see them for the first time is a challenge, but I think it's going to help make me a lot better driver and our team a lot better with chassis set up."
Adding to the learning curve for the driver of car # 42 will be getting used to the travel that comes with the MLRA series, and occasional short turn-a-round times from week to week.
?"It's going to be an adjustment for sure," he noted. "I think we are fortunate now in our business that we have a lot of good help and great drivers that can step in and help cover things if I'm not there. It seems like week to week is quite a while, but it ends up being pretty short when you get home on Sunday morning and your leaving again on Thursday for the next race. It's not easy to fit work and family and everything into that time, it gets kinda crunched so we just do the best we can."
With a half season of late model racing now under his belt, Huston and team are almost buttoned up in the shop and ready to see what his MLRA rookie campaign has in store. "I think last year we rolled onto probably six or seven new tracks that I had never been on before, so even if we haven't been to some of the tracks that we will go to this year hopefully with last years' experience we can gauge off of some of those experiences we learned to help us this year."
---
Article Credit: Billy Rock
Back to News