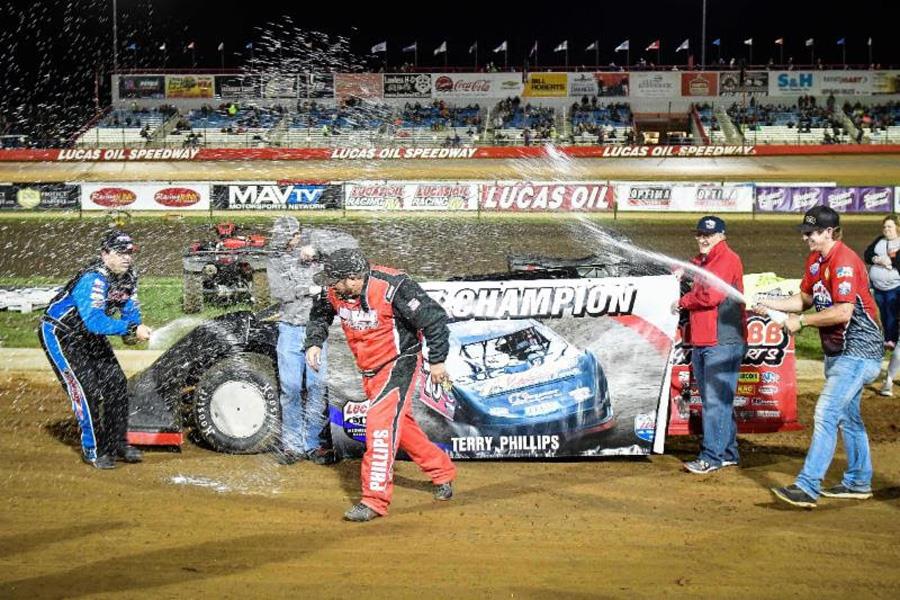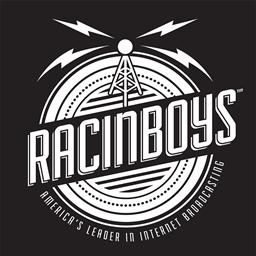 ---
Terry Phillips wraps up 2017 Lucas Oil MLRA title
By Trenton Berry (Wheatland, MO) -- Saturday's finale of the Lucas Oil MLRA Fall Nationals at Lucas Oil Speedway was a Jesse Stovall runaway. Starting on the outside pole, Stovall led every lap taking his first series win of the season and 21st overall.
PHOTO: Terry Phillips celebrates 2017 Lucas Oil MLRA championship--CREDIT: Kenny Shaw
"This car is really close," commented Stovall from Andy's Frozen Custard Victory Lane. "I've had a heck of a year since that flip. I can't seem to put anything together. This is really satisfying to finally get it done. This series has been more than good to me."
Billy Moyer moved forward and into second when he passed Austin Siebert. However, he never challenged Stovall for the top spot. Chad Simpson had a strong performance as well, finishing third. Both drivers started on the fourth row.
Four yellows slowed the pace of the feature, but none were for anything severe.
With the culmination of a season and the year long points battle, Terry Phillips was crowned the champion. It marks the fourth Lucas Oil MLRA title for Phillips and 10th Late Model title overall.
"It's just a long grind," said Phillips of all the ups and downs drivers go through in a season. "The car's pretty good. When I get this place figured out, we'll surely be better. It was a good year. I learned this racing deal from the best racer there's ever been, my dad. I just try to make him proud everyday."
Rodney Sanders came into the weekend with a punchers chance at securing the title, but ultimately settled with the Sunoco Rookie of the Year title. It was a tough weekend for Sanders, but he was always competitive and even won a series race in his first full-time Late Model season.
"It was definitely up and down," said Sanders of his year. "We had some good runs and some bad runs. It was definitely a fun year. It's definitely more work than a Modified for sure. It's real humbling, you could win one night and run the same track the nex,t and don't even make the A Main. You've just got to keep up with everything a lot more.
The final event of the season will be the annual post season banquet, with more details about it at later time.
Lucas Oil Speedway Contingencies 10/7/17
Andy's Frozen Custard Victory Lane - Jesse Stovall
Casey's General Store's "Hard Charger of the Race" - Tim Manville
DirtonDirt.com "Pole Award" - Austin Siebert
GRT Race Cars - Tony Jackson Jr
GRT Race Cars - Cliff Morrow
Hooker Harness "11th Place Finisher" - Payton Looney
KRC "Hard Luck Award" - JC Wyman
Landrum Springs "Landrum Springs Performer of the Race" - Austin Siebert
Malvern Bank & Trust "Most Laps Led" - Jesse Stovall
Midwest Sheet Metal "Points Leader Spoiler Challenge" - Terry Phillips
Mittler Brothers Machine and Tool "Crew Chief of the Race" - Tony Rogers
Performance Bodies "Performer of the Race" - Jesse Stovall
Real Racing Wheels - Jeremy Grady
Sunoco "Rookie of the Race" - Rodney Sanders
Wehrs Machine - Randy Timms
Lucas Oil Racing TV A Feature (50 Laps): 1. Jesse Stovall 2. Billy Moyer 3. Chad Simpson 4. Jack Sullivan 5. Randy Timms 6. Mason Oberkramer 7. Brent Larson 8. Austin Siebert 9. Chase Junghans 10. Tim Manville 11. Payton Looney 12. Jeremy Grady 13. Cade Dillard 14. Terry Phillips 15. Tony Jackson Jr 16. Logan Martin 17. Raymond Merrill 18. Rodney Sanders 19. Tad Pospisil 20. Jason Rauen 21. Dave Eckrich 22. Rickey Frankel 23. Jake Davis 24. Kaeden Cornell
Impact Signs, Awnings, Wraps B Feature (15 Laps): 1. Cade Dillard 2. Logan Martin 3. Jason Rauen 4. Chase Junghans 5. Tad Pospisil 6. Tim Manville 7. Matt Furman 8. Jeremy Grady 9. Robby Moore 10. Todd Shute 11. Bill Leighton 12. Cole Wells 13. Rodney Sanders 14. Cliff Morrow 15. JC Wyman
Swift Springs Heat 1 (10 Laps): 1. Dave Eckrich 2. Chad Simpson 3. Brent Larson 4. Payton Looney 5. Matt Furman 6. Logan Martin 7. Robby Moore 8. Cole Wells
Casey's General Stores Heat 2 (10 Laps): 1. Jesse Stovall 2. Rickey Frankel 3. Jake Davis 4. Terry Phillips 5. Cade Dillard 6. Tad Pospisil 7. Bill Leighton
Chix Gear Racewear Heat 3 (10 laps): 1. Tony Jackson Jr 2. Bily Moyer 3. Jack Sullivan 4. Kaeden Cornell 5. Chase Junghans 6. Tim Manville 7. Jeremy Grady 8. Cliff Morrow
Malvern Bank Heat 4 (10 Laps): 1. Ausitn Siebert 2. Mason Oberkramer 3. Randy Timms 4. Raymond Merrill 5. Jason Rauen 6. Todd Shute 7. Rodney Sanders
For all of the latest news and information fans are encouraged to visit the series website at www.MLRARacing.com.
Fans may also "like" the Lucas Oil MLRA Facebook page by clicking www.Facebook.com/lucasoilmlra or follow us on Twitter at www.Twitter.com/MLRA.
---
Submitted By: Kirk Elliott
Back to News