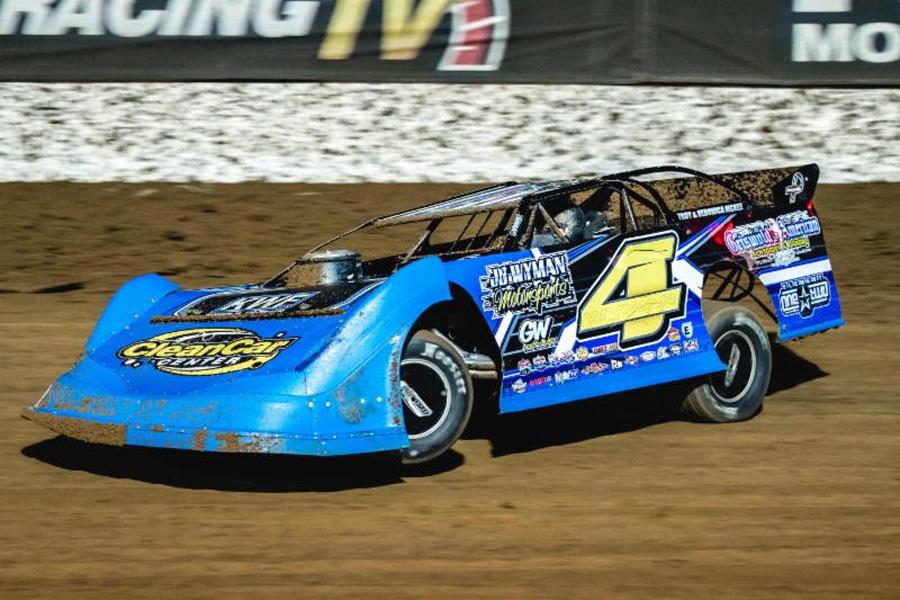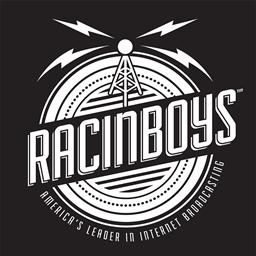 ---
Iowa's Wyman looks to change his luck as MLRA Fall Nationals visit Lucas Oil Speedway this weekend
By Lyndal Scranton (Wheatland, MO) -- Perhaps if the Lucas Oil MLRA had a category for torn-up sheet metal, J.C. Wyman might have already clinched that championship.
"It's been a rough second half of the season. We've got torn up a lot," Wyman said earlier this week from his home in Griswold, Iowa. "It sure hasn't been what we wanted it to be."
PHOTO: Iowa's J.C. Wyman is fifth in Lucas Oil MLRA Series points entering this weekend's Fall Nationals at Lucas Oil Speedway--CREDIT: Kenny Shaw photo
Wyman looks forward to having a final chance to turn his luck around this weekend when the MLRA Series wraps its season. The 4th annual Fall Nationals are Friday and Saturday at Lucas Oil Speedway with drivers chasing feature wins paying $3,000 and $5,000, respectively.
"We're looking forward to getting down there and trying some new things," Wyman said. "We're just looking for a couple of good days on the track and seeing how it goes.
"We've got torn up a bunch and just can't seem to catch a break. We changed motors about midseason and maybe that's a part of our problem. It doesn't seem to maybe fit my driving style with the motor we have in now. I don't know. It's just not been the season I wanted it to be.
"But we'll take some swings with some things this weekend and maybe it'll work."
That said, Wyman enters the weekend fifth in MLRA Series points. That would be a career-best finish - up one from last season and three notches higher than 2015. Wyman's only MLRA career feature win came a year ago at Lakeside Speedway.
Through his on-track problems this season, Wyman said he's plugged away and tried to make the best of it.
"We're at least consistent," he said. "We've been anywhere from a fifth to 10th-place car for the most part. We just haven't been able to break through into the top five."
Wyman, 34, said it's easy to explain why his passion remains strong. From a racing family that saw his grandfather, Jim Wyman, race on Iowa dirt tracks and his uncles, Mark and Jerry Wyman race Modifieds, there's a definite thirst to succeed.
"I love the sport," J.C. Wyman said. "I wouldn't choose to do anything else. I love everything about it, the ins and the outs. But was everybody gets faster and the times and technology changes, it seems to make it harder to put the effort in, to be a top two or top three car.
"I'm working on that for next year already, trying to figure out how to balance my time better."
Working full-time as a mechanic in the family auto repair business and raising three children, ages 5, 8 and 10 makes life run proceed at a fast pace.
Having a strong showing this weekend would be either positive momentum to take into the offseason or motivation to race a few more times in 2018 before the snow flies.
"If we can run good, that will continue to keep us moving forward in a positive way," he said, adding that his team, starting with car owners Jack and Mary Ann McKee, deserves praise for keeping him pumped up.
"Mom and Dad (Glenda and Jim Wyman) along with Dusty Wyman, Kevin Carlisle, Tyler Johnson and Anthony Lappe - if it wasn't for them, I don't know where we would be."
As Wyman looks to clinch a top-five series finish this weekend, Springfield's Terry Phillips will be aiming to nail down his fourth MLRA championship. Phillips begins the weekend 42 points in front of Rodney Sanders, with reigning series champ Jesse Stovall in third and Randy Timms fourth.
Co-headlining this weekend's action is the Street Stocks Big Buck 50 Presented by Whitetail Trophy Hunt. The first 16 starters for the $5,000-to-win 50-lap Saturday feature will be determined via Friday-night qualifying.
The biggest Street Stock race of the season attracted 93 entries a year ago and at least that many are expected this weekend. Along with $5,000, the winner of Saturday's feature will receive a free entry into the Whitetail Trophy Hunt in central Missouri, Nov. 11-13. That is valued at $3,000.
An open practice session has been scheduled for Thursday, from 6-9 p.m. Pit admission is $20 and spectators in the grandstand are admitted free. The Diamond Bar will be open with the band Phat Mike and the Bartenders playing following the practice.
The complete weekend will be filmed by Lucas Oil production for a later broadcast on MAVTV and will also included in the offerings on Lucas Oil Racing TV.
Schedule/format
(Thursday practice)
6-9 p.m. - $20 pits, FREE grandstands (Diamond Bar open after practice with Phat Mike and the Bartenders playing)
(Friday)
Gates open at 5 p.m. with hot laps at 7 and racing at 7:35
Street stock time trials
Heat races for MLRA (passing points)
Heat races for Street Stocks (first and second place finishers lock into Saturday's A-Main)
B-Main for MLRA
Street Stocks Top 16, two dashes for Saturday A-Main lineup (first place in heats run for starting positions 1-8, second place in heats run for positions 9-16)
MLRA feature (40 laps)
(Saturday)
Gates open at 4 p.m. with hot laps at 6 and racing at 6:35
MLRA time trials
Street Stocks F-Feature, 12 laps (top 6 transfer to E-Feature)
Opening ceremonies/National Anthem
Street Stocks E-Feature, 14 laps (top 6 transfer to D-Feature)
MLRA heat races
Street Stocks D-Feature, 16 laps (top 6 transfer to C-Feature)
Hot laps for Top 16 Street Stock A Feature qualifiers
Street Stocks C-Feature, 18 laps (top 6 transfer to B-Feature)
MLRA B-Feature
Street Stocks B-Feature, 20 laps (top 8 transfer to A-Feature)
Intermission
MLRA Feature (50 laps)
Street Stocks Feature (50 laps)
Tickets
(Friday)
Gates open at 5 p.m. with hot laps at 7 and racing at 7:35
Adults (16 and up) $15
Seniors (62 and up)/Military $12
Youth (6-15) $5
Kids (5 and under) FREE
Family Pass $30
Pit Pass $35
(Saturday)
Gates open at 4 p.m. with hot laps at 6 and racing at 6:35
Adults (16 and up) $20
Seniors (62 and up)/Military $17
Youth (6-15) $5
Kids (5 and under) FREE
Family Pass $40
Pit Pass $40
For ticket information for all Lucas Oil Speedway events, contact admissions director Nichole McMillan at (417) 282-5984 or via email at nichole@LucasOilSpeedway.com.
Complete Lucas Oil Speedway event information, archived stories, ticket info and schedules can be found by visiting http://www.LucasOilSpeedway.com.
Lucas Oil Speedway is located at Highways 83 and 54 in Wheatland, Missouri. A campground with shower and bathroom facilities is also available. With its entrance located just outside the pit gate this sprawling scenic camping facility will continue to enhance the racing experience at the Diamond of Dirt Tracks.
Click http://www.LucasOilSpeedway.com for more information and detailed directions to the speedway or call the Track Hotline at (417) 282-5984.
In addition, fans can get social with Lucas Oil Speedway by following @LucasSpeedway on Twitter, clicking "Like" at http://www.facebook.com/LucasOilSpeedway and on http://www.youtube.com/LucasOilSpeedway
---
Submitted By: Kirk Elliott
Back to News