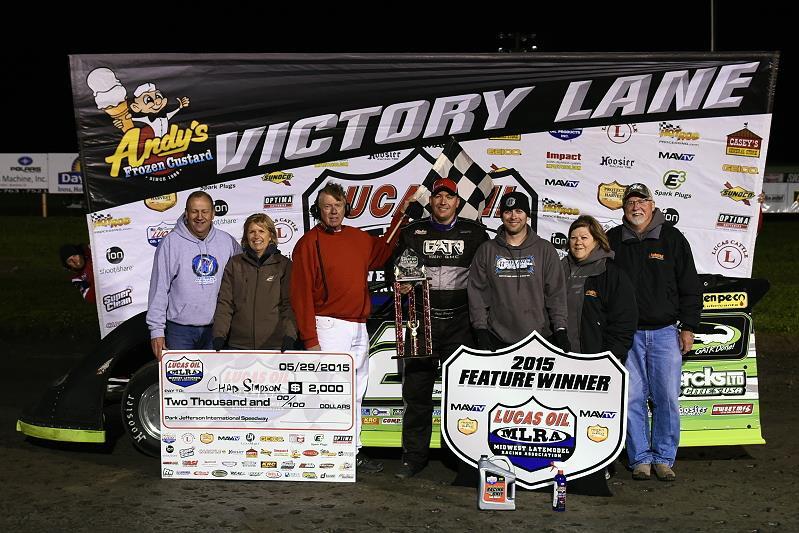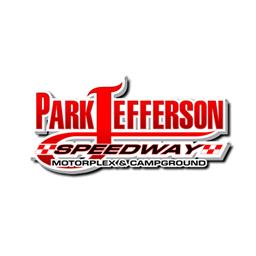 5/29/2015
Park Jefferson International Speedway
---
Chad Simpson Claims Carlson Clash victory on Night #1
Park Jefferson Speedway missed all of the rain showers throughout the day allowing Chad Simpson to enter victory lane on night #1 of the Carlson Clash. Also taking home victories include Todd Boulware in the Pederson Machine Sport Mods, Kyle Prauner in the J&J Fitting Stock Cars, and Chris Abelson in the Sign Masters Modifieds,
Feature action started with the Pederson Machine Sport Mods. Pole sitter Kaleb Kennedy jumped to an early lead from the pole position but a broken left front would cause him to retire from race action on lap 7. Kyle Prauner would inherit the lead but it was short lived as 8th starter Todd Boulware would use an inside pass on lap 9 to take the lead and win the feature by five car lengths over Prauner. Boulware wins while Prauner finished 2nd, and Jeff Brunssen took third.
Kyle Prauner jumped to the lead in the J&J Fitting Stock Car feature with Jason Ward applying relentless pressure in the opening laps. A scary mid race roll by Mark Holmes would bring out the red flag halting race action. Holmes would be okay after the roll. On the ensuing restart, Prauner built a four car length lead while Max Hoffer and Ward battled for the runner up position. After another restart on lap 14, Ward would jump back into 2nd over Hoffer and remain there at the finish as Prauner would win, Ward follow in 2nd, and Hoffer in 3rd.
Sign Masters Modifieds saw plenty of excitement at the start with a few yellows allowing Ricky Stephan and Chris Abelson to make quick advances through the field with their 7th and 9th place starts, respectively. Mike Densberger would lead the first five laps while Stephan and Abelson would start to apply heavy pressure on lap 4 after a restart, even going three wide in turn two for the top spot. On lap 5, Abelson out muscled Stephan and Densberger and cruised to the victory as Stephan finished 2nd, and Densberger in 3rd.
The MLRA and CBC Late Model feature would be the last feature of the night with Stormy Scott and Terry Philips leading the field to the green flag. Heading into turn one, third starter Jesse Stovall tried a bold move to squeeze by Scott on the bottom, causing both to lose momentum allowing Philips to take the early lead. A lap three yellow would bunch the field back up for a Delaware double file restart with Philips up front all alone with Simpson and Stovall in row two. Simpson and Stovall put heavy pressure on Philips as all three cars ran their own unique line in a race for the top spot. Eventually Simpson would use a slide job in turns one and two to pass Philips, but heavy lap traffic ahead allowed Philips to slip back to the lead. A lap later, Simpson would pass Philips back for the lead. Jesse Stovall would overtake Philips and set his sights on Simpson. Stovall used high lines, low lines, dive bombs, and the cushion to get within a car length of Simpson with three laps remaining in lap traffic, but Simpson pulled away using the high line in turns one and two and the bottom in three and four to win night #1 of the Carlson Clash. Simpson took home the $2,000 victory, with Stovall, Philips, Spieker, and Sanders rounding out the top five.
MLRA and CBC action continues tonight at 7:00 featuring Late Models, Sport Mods, Hobby Stocks, and Sport Compacts. Stay up to date with happenings at Park Jefferson Speedway by checking www.parkjeff.com, https://www.facebook.com/ParkJeffersonSD, or calling 712-202-5540.
---
Submitted By: Michael Lund
Back to News