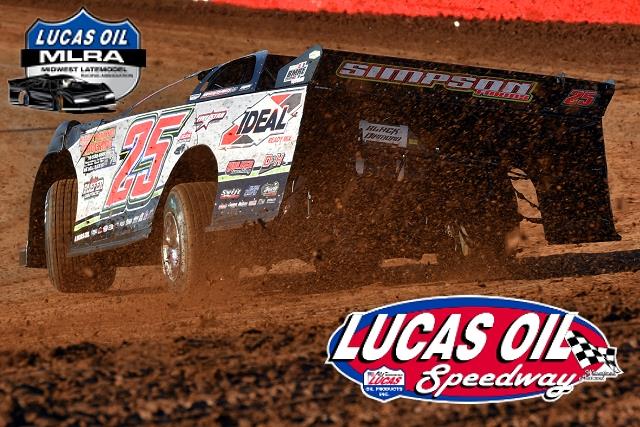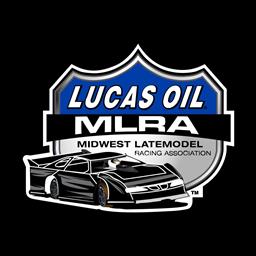 ---
Defending Champ--Chad Simpson Leads MLRA Into "Spring Nationals"
Wheatland, Missouri (March 27, 2023) – The 10th Annual MLRA "Spring Nationals", Presented by Arizona Sport Shirts, will take centerstage this weekend March 31st – April 1st, when the Lucas Oil Midwest Late Model Racing Association (MLRA) kicks off their 35th Anniversary season of racing action.
The "Diamond of Dirt Tracks" the Lucas Oil Speedway in Wheatland, Missouri will play host to the opening round for the first time since the 2017 season, which saw Will Vaught and Rodney Sanders taking home top honors. Friday nights weekend lid-lifter will feature a $5,000 to win main event, followed by a $10,000 A-Feature showdown to wrap up the weekend on Saturday night.
A practice session on Thursday night will proceed the weekends racing action, running on track from 6:00 PM to 9:00 PM, allowing drivers an opportunity to get dialed in for the always important season opening weekend.
Chad Simpson will roll into Wheatland as the series' defending Champion after scoring his third career title in 2022. His prior MLRA championships had come in 2014 & 2018, and now he will have an opportunity to become the first driver to go back-to-back since John Anderson last accomplished that feat during the 2011 and 2012 seasons.
The driver from Mount Vernon, Iowa will be hitting the track Thursday night for the first time since last fall's MLRA Championship weekend at the Tri-City Speedway, and he will be doing so in a new Longhorn by Wells Chassis with a Pro Power Racing engine under the hood.
"We haven't turned any laps on the new car at all, so we're excited to hopefully get in Thursday night so we can get a little practice and a few laps on the car and get comfortable before things really get started on Friday," commented Simpson. "I'm hopeful that it will fit us pretty good and we can make just a few little tweaks here and there to fit my liking."
"We bought this new car through Wells, and Eric (Wells) has been really good with me and walked us through everything and all of their basics and stuff. I've seen cars come out of their shop and I've seen how they have ran, they typically seem to be pretty good right out of the box. It appears they've got a really good package with (Brandon) Overton and what his program is, so I'm hoping for a quick transition, but you just never know with a new car and a new change."
When it comes to Wheatland and the Lucas Oil MLRA, Simpson knows first-hand how important it can be to have a good grasp on the 3/8 mile oval. With a total of eight nights of action planned this season at the Diamond he notes that it's definitely a place that can always bring a driver their share of highs and lows.
"We've had years there that we've been really good and we've had a lot of years that we have struggled there, but just having some history down there like we do is a help when it comes to knowing where to start and what to do." Simpson's history includes being a three time winner at Lucas Oil Speedway, the most recent of which came in the 2018 season finale where he clinched his second MLRA title. In 2022 he notched three top five finishes, including a fifth place run in the 30th Annual Show-Me 100.
With a shot at a fourth MLRA championship no more than a blip on the radar at this point, Simpson acknowledges how important the first three weekends of action will be for him and his MLRA counterparts who may be looking to have a shot at the $20,000 championship come October. "With all of these races back-to-back-to-back it can definitely set the stage for the rest of your year. You have to come out and keep an open mind, and you can't get frustrated in those first three weeks and hopefully just have some good runs and some good finishes that can keep you right up there towards the top."
For additional information on this weekend's Spring Nationals or any of the Lucas Oil MLRA events hosted by the Lucas Oil Speedway in 2023, fans are encourage to visit www.LucasOilSpeedway.com. Here you can find full details regarding this weekend, along with ticket and camping info for upcoming race weekends.
Lucas Oil Speedway: Wheatland, MO (Race Day Info)--Friday 3/31/23
Pit Gates: 4:00 PM, Grandstands 5:00 PM
Racing: Hot Laps - 6:30 PM, Racing - 7:05 PM
Admission: Adults (16+) $20, Seniors (62+)/Military $17, Youth (6-15) $10, Kids (5 & Under) FREE, Family Pass $50
Support Classes: USRA Modifieds $1,000 to Win & Show Me Vintage Racers
Website: www.LucasOilSpeedway.com
Lucas Oil Speedway: Wheatland, MO (Race Day Info)--Saturday 4/1/23
Gates: 4:00 PM, Grandstands 5:00 PM
Racing: Hot Laps - 6:30 PM, Racing - 7:05 PM
Admission: Adults (16+) $25, Seniors (62+)/Military $22, Youth (6-15) $10, Kids (5 & Under) FREE, Family Pass $60
Support Classes: USRA Stock Cars, USRA B-Mods, & Show Me Vintage Racers
---
Article Credit: Billy Rock
Submitted By: Billy Rock
Back to News