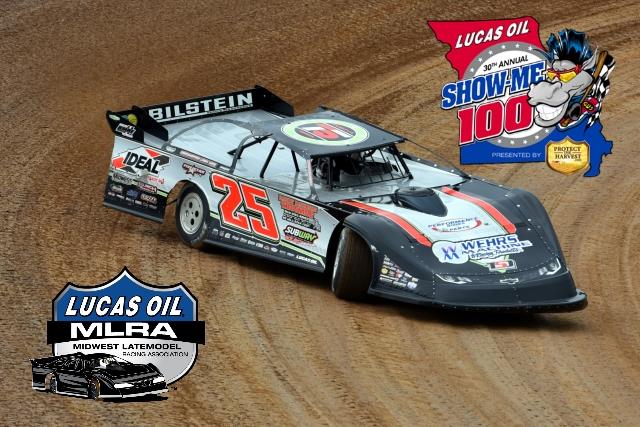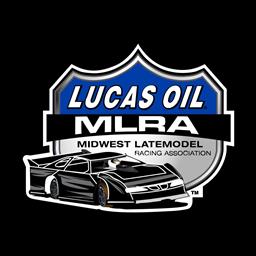 ---
Chad Simpson Prepared To Lead MLRA Charge Into $50,000 To Win Show-Me 100
Wheatland, Missouri (May 25, 2022) – It's finally the eve of the 30th Annual Show-Me 100, and Late Model drivers from across the country are loading up and making their way to the Lucas Oil Speedway in Wheatland, MO. Lucas Oil MLRA drivers will join in the mix this weekend with their counterparts from the Lucas Oil Late Model Dirt Series to see who walks away with the $50,000 top prize come Saturday night—a new record purse, that will for sure make one teams entire season.
Johnny Scott tops the MLRA contingent into the weekend by virtue of his two early season MLRA victories, holding down a 55 point advantage over Oxford, Iowa's Chris Simpson who has continued his race-by-race climb towards the top. Three time Lucas Oil Speedway winner Chad Simpson, resides in the third position only 85 markers out of the series point lead.
Former MLRA winner and 2016 series Rookie of the Year Tad Pospisil is fourth and off to a fast start as one of the series top qualifiers. Rounding out the top five is Ashland, IL driver Kolby Vandenbergh, who also finds himself on top of a competitive Sunoco Race Fuels Rookie of the Year battle.
Two time MLRA series champion Chad Simpson enters as the veteran of the MLRA contingent and will be looking to make his 10th career start in Saturday night's main event. Through just four MLRA events in 2022 Simpson already has a pair of podium finishes, which is more than he had in all of 2021 with the series.
For Simpson the key to a good weekend starts in qualifying. "I like the multiple day qualifying formats," noted Simpson. "It gets you some more time on the track and gives you the opportunity to try some more things. But at the end of the day you're racing the best in the country down there and you've got to make sure you have your stuff all in line and be ready to go right away. If you want a shot at winning and being up front you need to qualify and get yourself out of the heat races the way you need to."
Saturday night's 100 lapper comes as the longest race of the season on the MLRA schedule, but that's something Simpson says you can't treat much different than a typical MLRA Saturday night. "Track position is everything now-a-days. Don't get me wrong, 100 laps definitely gives you more time to try to get to the front if your starting in the back. But with the caliber of cars out here and the pace that the leaders are going to set at the start of the race, if you start in the back odds are you're going to go a lap down before you even realize it."
"It really comes down to anymore, that it doesn't matter if it's a 40 lapper or a 100 lapper, track position is everything and you need to get yourself in the front four or five rows for sure to make sure you're in contention there at the end."
SHOW-ME CONFIDENCE:
Thanks to a strong runner-up finish on the final night of the MLRA Spring Nationals last month at the Lucas Oil Speedway, Simpson will enter the weekend more confident than in recent years. "You know Wheatland and Lucas Oil Speedway was always one of those places I have always struggled at for a long time. Then we had a string there like in 08', 09', & 2010 that we ran really good and won some races down there. Since then it just seems like we have been on that struggle bus down there again. So for us to unload for the Spring Nationals and run really good, second the last night, and have a car that steered really well around there it felt pretty good. We are hoping to go down there with that same car and just make some adjustments to get up there just a little bit closer."
MIDWEST SHEET METAL SHOW-ME CHALLENGE:
A season ago, Simpson had to race his way into the Show-Me 100 the hard way by winning the Non-Qualifiers "Midwest Sheet Metal Show-Me Challenge" race. He would forgo the $2,500 top prize and elected to start at the tail of the 100 lap main event. "Last year was a big struggle for us all year. The caliber of cars that are there and anywhere we go anymore is just getting that much tougher and it's harder and harder. Chris (Davis) with Midwest Sheet Metal has done a lot for the series and the sport, and that little bit of extra money can help us get up and down the road, especially as a regional driver, and just giving us that extra shot to get into the show is worth a lot."
"I've seen guys come from the very back of winning that race and end up doing really well in the feature race. Chris does a lot for our sport, hats off to him and all of the people at Lucas Oil for keeping him involved in that part of the weekend," concluded Simpson.
In the seven prior Show-Me Challenge races, three times a driver has elected to start at the tail of the 100 lap main event and found themselves in the top seven at the drop of the checkered flag. Those drives through the field include Mike Marlar in 2013 (7th), Bobby Pierce in 2016 (6th), and Chris Simpson in 2015 (3rd).
For more information on tickets or camping, please visit www.lucassoilspeedway.com
Lucas Oil Speedway: Wheatland, MO ("Cowboy Classic") -- Thursday 5/26/22
Gates: 4:00 PM
Racing: Hot Laps - 6:30 PM, Racing - 7:05 PM
Admission: Adults(16+) $30, Seniors (62+)/Military $27, Youth (6-15) $10, Kids (5 & Under) FREE, Family Pass $70, Three Day Reserved $115, Pit Pass $40
Support Classes: USRA Modifieds $750 to Win
Lucas Oil Speedway: ("Tribute to Don & Billie Gibson") -- Friday 5/27/22
Gates: 4:00 PM
Racing: Hot Laps - 6:30 PM, Racing - 7:05 PM
Admission: Adults(16+) $30, Seniors (62+)/Military $27, Youth (6-15) $10, Kids (5 & Under) FREE, Family Pass $70, Pit Pass $40
Support Classes: USRA Modifieds $750 to Win
Lucas Oil Speedway: (29th Annual "Show-Me 100") -- Saturday 5/28/22
Gates: 4:00 PM
Racing: Hot Laps - 6:30 PM, Racing - 7:05 PM
Admission: Adults(16+) $40, Seniors (62+)/Military $37, Youth (6-15) $10, Kids (5 & Under) FREE, Family Pass $90, Pit Pass $45
Support Classes: USRA Modifieds $1,500 to Win
---
Article Credit: Billy Rock
Submitted By: Billy Rock
Back to News