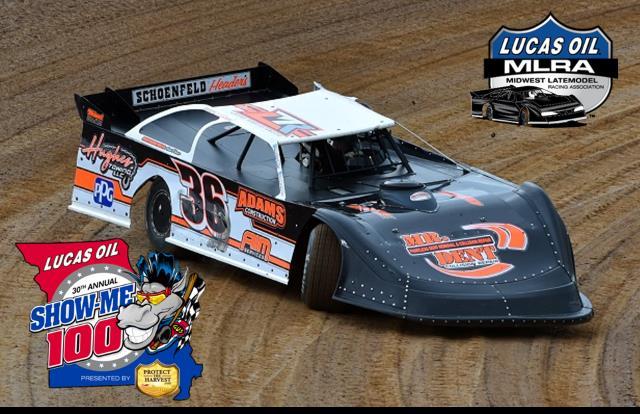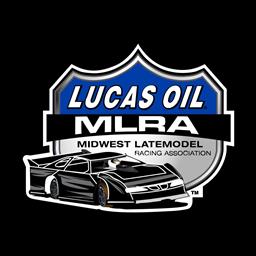 ---
Martin Excited For A Shot At Richest Show-Me 100 In History
Wheatland, Missouri (May 23, 2022) – The long standing tradition known as the Show-Me 100 is now just days away, as the stars of the Lucas Oil MLRA and Lucas Oil Late Model Dirt Series get ready to embark on history. The 30th edition of the crown jewel event is sporting a new $50,000 to win record pay day, and for West Plains, MO driver Logan Martin he would be just fine in doing his part to keep that pay check close to home.
Two big nights of qualifying action get things started beginning on Thursday with the 9th Annual "Cowboy Classic", honoring longtime MLRA series Owner & Promoter Allen "Cowboy" Chancellor. Friday nights $6,000 to win qualifying night main event, the "Tribute to Don & Billie Gibson" will pay tribute to the longtime owners of the West Plains Motor Speedway, the original home to the Show-Me 100.
Saturday night's finale will include a pre-race performance by county music star Aaron Tippin, followed by last chance qualifying races including the Midwest Sheet Metal Show-Me Challenge. The nights finale with go off with a bang when drivers chase after a share of the highest purse in Show-Me 100 history, and the $50,000 top prize.
The 26 year old Martin wasn't around back when the original Show-Me 100 hit the dirt 30 years ago at the West Plains Motor Speedway, but having grown up in the same hometown as the annual Memorial Day weekend classic Martin knows how important the event is to dirt late model racing in the area. "At the time I was always racing go-karts, so I didn't get to attend a ton of Show-Me's because we were always racing somewhere else on Memorial Day weekend," he recalls of the early days in West Plains.
"I remember the town always being packed and everybody coming in and it being the talk of the town and the campers being everywhere. It was a really big deal. And it's cool for what they are doing now for Don & Billie Gibson as part of the Show-Me. I would almost rather win the tribute on Friday night then I would the Saturday night portion because I know that would be so cool to win with the Gibson's being from West Plains, that would be super humbling for me."
With Thursday and Friday being broadcast on the MAVTV Plus App, and Saturday live on the MavTV Motorsports Network, the 2018 MLRA Sunoco Rookie of the Year is also excited for the exposure the three day event can provide to his race team. "The exposure is big especially on a sponsorship level. Just getting that general exposure out there and potential for more sponsorships, apparel sales and everything that comes with it. It just never hurts to get your name out there and be well known among the masses."
The two preliminary qualifying nights leading up to Saturday can also force drivers to take a look at strategy when trying to lock into the main event. Both prelim nights will include full shows of time trials, heats, B's, and a $6,000 to win feature. "It's kind of nice because it's not like you have to have one really good night, but you also have to make sure that you don't have a terrible night either," noted Martin. "You have to make sure that every time you roll onto the track that it matters, so you've got to be sure you are qualifying good, heat racing good, and even if you don't necessarily make the top transfer out of a heat race and you transfer into a b-main you have to remember everything is points and the more points you accumulate the better off you're going to be going into Saturday."
"If you can start off Thursday night good it definitely takes pressure off for Friday night because if you have a below average Thursday night you put the pressure on yourself to have an above average night on Friday night."
When the starting grid rolls onto the track at the Lucas Oil Speedway on Saturday night Martin is hopeful to be one of those drivers sharing in the moment and having a shot at capturing the richest Show-Me 100 in history. "When there's 40 or 50 cars in the pits and you're sitting there out on the front stretch and they're doing driver introductions and your walking around, you're kind of like man out of everybody in the country right now there are 27 of the best of the best sitting on this front stretch. It's a really cool and surreal feeling to watch that happen and definitely a memorable one every time you get to stand out there on the front stretch."
For more information on tickets or camping, please visit www.lucassoilspeedway.com
---
Article Credit: Billy Rock
Back to News