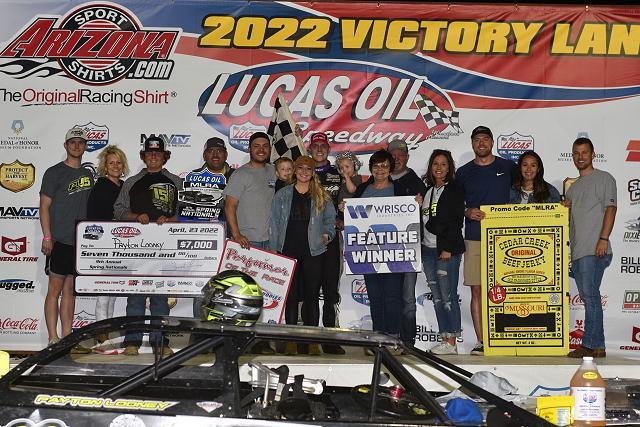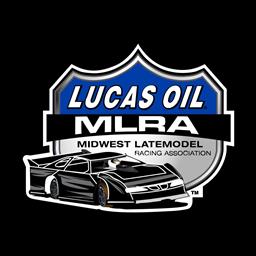 ---
Payton Looney Returns To MLRA Victory Lane At Lucas Oil Speedway
Wheatland, MO (April 23, 2022) – Mother nature tried yet again to spoil the fun in the final night of the 9th Annual MLRA Spring Nationals at the Lucas Oil Speedway, but in the end it was Payton Looney raining on her parade by capturing his sixth career MLRA win at the Wheatland, MO facility on Saturday night.
Looney, the driver of the Atnip Enterprises Capital Chassis, along with the rest of the 35 car field had to endure a near one hour delay in the action as rain showers moved over the speedway just as Group "B" qualifying hit the race track. The shower would change the complexity of the nights action as Kolby Vandenbergh took advantage of the added tack and drove to his first career DirtonDirt.com Fast Time Award with a 15.052 second lap time.
Friday nights runner up Jason Papich appeared poised to do one spot better, firing from the Illini Racing & Supply Pole by virtue of his heat win along side of Looney for the 40 lap affair. However, the top side momentum propelled Looney to the top stop at the drop of the green flag as Papich locked onto the race leaders bumper. On the ninth circuit Papich made what looked to be the move of the night taking the lead away from Looney, only to have it taken away that same lap by virtue of the nights first caution which waved as Kylan Garner slowed on the speedway.
The caution proved to be a big break for Looney who would quickly drive away from the field on the restart. Chad Simpson was able to clear Papich on the restart moving into second as the leaders maneuvered their way deep into lapped traffic, until Kaeden Cornell slowed on lap 25 bring out the nights second yellow flag.
Simpsons best bet at catching the 15 of Looney looked to be as the duo race their way through lapped traffic, but another pair of late race cautions allowed Looney to keep his nose out in front, as he drove to a 1.31 second victory over Simpson. The $7,000 win was Looney's second MLRA win at the Lucas Oil Speedway and first since his win in the 2020 Show Me 100.
Chad Simpson recorded his second MLRA podium finish of the year coming home in the runner up spot, besting sibling Chris Simpson who also scored his best finish of the season in third Logan Martin charged from 13th on the grid to fourth at the line, while last years series runner up Garrett Alberson finished in fifth.
An emotional Looney dedicated the victory to his car owner Jeremy Atnip's father Tim, who passed away this part January. Racing a part time schedule in 2022 Looney commented, "Racing is just for fun now. We don't have to chase any points, we get to race when we want to and there is no pressure. I get to do it with my wife and my kids and it makes it a lot more special that's for sure."
"The race track was kind of treacherous in one and two, so I was just trying to stay up in that brown and every once in a while I would kind of come off of it trying to miss them holes and I knew I was giving up ground," continued Looney. "In three and four I felt really comfortable all night so I thought I was making up enough ground there to kind of withstand. I got kind of lucky on that yellow there, Papich kind of slid me and it was going to be hard to get back by him, it just pays to be a little lucky sometimes I guess."
Chad Simpson made a big jump from his twelfth place run on Friday night and was happy with how his Ideal Ready Mix, Black Diamond race team finished out the weekend. "Coming from where we were last night it's a big improvement for us. We worked on the car and put our heads together and made some phone calls today and I think we've got this thing where it needs to be now, so we can just work on trying to get that one more spot."
Commenting on the battle with Looney Simpson said, "In lapped traffic I could catch him, but getting around him was going to be a lot harder to do. He slipped up that one time in three and four and I gained about three or four car lengths and if he would have done that a couple more times I might have had something."
Chris Simpson has been the model of consistency through the first four MLRA races of the season, the only driver to have recorded all top ten finishes to date. "We got back in the Longhorn cars and kind of just got back into the groove I was in a few years ago. I feel like we've got a good base line down now if we can just tune on it and pick up a few more spots, I think we'll be right there."
The next stop on the 2022 Lucas Oil MLRA schedule is an early season visit to the Lake Ozark Speedway in Eldon, MO on May 6th & 7th. Drivers will take to the track in the 2nd annual Battle at the Beach with Friday nights winner pocketing a $5,000 pay day followed by Saturday nights main event which will dish out $7,000 to the feature winner.
Lucas Oil Speedway Contingencies 4/23/22
Lap Leaders – Payton Looney (1 - 40)
Cautions – 4
DirtonDirt.com "Overall Fast Time Award" –Kolby Vandenbergh (15.052sec.)
Illini Racing & Supply "Pole Award" – Jason Papich
Outerwears Crew Chief of the Race – Jeremy Atnip
Hooker Harness "11th Place Finisher" – Johnny Scott
Performance Bodies "Performer of the Race" – Payton Looney
Sunoco "Rookie of the Race" – Daniel Hilsabeck
Swift Springs "Move of the Race" – Chad Simpson
Midwest Sheet Metal "Points Leader Spoiler Challenge" – Johnny Scott
A Feature 1 40 Laps | 00:33:30.884 | Cedar Creek Beef Jerky
15L-Payton Looney[2]; 2. 25-Chad Simpson[4]; 3. 32S-Chris Simpson[3]; 4. 36M-Logan Martin[13]; 5. 58-Garrett Alberson[8]; 6. 22-Daniel Hilsabeck[7]; 7. 15V-Kolby Vandenbergh[6]; 8. 91P-Jason Papich[1]; 9. 10-Jacob Magee[16]; 10. 93-Mason Oberkramer[23]; 11. 1ST-Johnny Scott[10]; 12. 04-Tad Pospisil[11]; 13. 1X-Aaron Marrant[20]; 14. 2S-Stormy Scott[15]; 15. 11-Trevor Gundaker[19]; 16. 30-Todd Cooney[25]; 17. 76-Blair Nothdurft[18]; 18. 96-Dalton Imhoff[22]; 19. 14G-Joe Godsey[21]; 20. 14W-Dustin Walker[24]; 21. 78S-Steve Stultz[26]; 22. 21-Billy Moyer Jr[14]; 23. 18-Shannon Babb[12]; 24. 56JR-Tony Jackson Jr[17]; 25. 50-Kaeden Cornell[9]; 26. 45-Kylan Garner[5]
B Feature 1 Sunoco 10 Laps | 00:03:54.821
56JR-Tony Jackson Jr[4]; 2. 11-Trevor Gundaker[8]; 3. 14G-Joe Godsey[2]; 4. 78S-Steve Stultz[1]; 5. 30-Todd Cooney[3]; 6. 14W-Dustin Walker[6]; 7. (DNS) 15F-Jeremy Conaway; 8. (DNS) 9391-Joe Duvall; 9. (DNS) 75-Terry Phillips; 10. (DNS) 14R-Jeff Roth
B Feature 2 Hoosier 10 Laps | 00:10:19.072
76-Blair Nothdurft[2]; 2. 1X-Aaron Marrant[1]; 3. 96-Dalton Imhoff[4]; 4. 93-Mason Oberkramer[3]; 5. T6-Tommy Sheppard Jr[6]; 6. 14M-Reid Millard[7]; 7. 50C-Kayden Clatt[8]; 8. 26-Glen Powell[5]; 9. (DNF) 7-Cole Wells[9]
Heat 1 Midwest Sheet Metal 8 Laps | 00:05:00.318
91P-Jason Papich[1]; 2. 45-Kylan Garner[3]; 3. 50-Kaeden Cornell[2]; 4. 36M-Logan Martin[9]; 5. 78S-Steve Stultz[4]; 6. 30-Todd Cooney[8]; 7. 15F-Jeremy Conaway[6]; 8. (DNF) 14R-Jeff Roth[7]; 9. (DNS) 75-Terry Phillips
Heat 2 Hooker Harness 8 Laps | 00:03:16.962
32S-Chris Simpson[2]; 2. 22-Daniel Hilsabeck[1]; 3. 04-Tad Pospisil[4]; 4. 2S-Stormy Scott[3]; 5. 14G-Joe Godsey[7]; 6. 56JR-Tony Jackson Jr[8]; 7. 14W-Dustin Walker[6]; 8. 11-Trevor Gundaker[5]; 9. 9391-Joe Duvall[9]
Heat 3 My Race Pass 8 Laps | 00:04:32.492
15L-Payton Looney[2]; 2. 15V-Kolby Vandenbergh[1]; 3. 1ST-Johnny Scott[3]; 4. 21-Billy Moyer Jr[6]; 5. 1X-Aaron Marrant[4]; 6. 93-Mason Oberkramer[7]; 7. 26-Glen Powell[8]; 8. 14M-Reid Millard[9]; 9. (DNS) 7-Cole Wells
Heat 4 Fast Shafts 8 Laps | 0
0:04:45.783
25-Chad Simpson[1]; 2. 58-Garrett Alberson[4]; 3. 18-Shannon Babb[3]; 4. 10-Jacob Magee[2]; 5. 76-Blair Nothdurft[5]; 6. 96-Dalton Imhoff[6]; 7. T6-Tommy Sheppard Jr[8]; 8. 50C-Kayden Clatt[7]
Dirt on Dirt Qualifying 1 | 00:00:33.415 | Dirt on Dirt
91P-Jason Papich, 00:16.154[8]; 2. 22-Daniel Hilsabeck, 00:16.256[13]; 3. 50-Kaeden Cornell, 00:16.666[11]; 4. 32S-Chris Simpson, 00:16.679[18]; 5. 45-Kylan Garner, 00:16.704[1]; 6. 2S-Stormy Scott, 00:16.751[10]; 7. 78S-Steve Stultz, 00:16.817[14]; 8. 04-Tad Pospisil, 00:16.828[4]; 9. 75-Terry Phillips, 00:16.861[3]; 10. 11-Trevor Gundaker, 00:16.933[12]; 11. 15F-Jeremy Conaway, 00:16.944[2]; 12. 14W-Dustin Walker, 00:16.948[16]; 13. 14R-Jeff Roth, 00:16.967[7]; 14. 14G-Joe Godsey, 00:16.971[15]; 15. 30-Todd Cooney, 00:16.980[9]; 16. 56JR-Tony Jackson Jr, 00:17.011[5]; 17. 36M-Logan Martin, 00:17.094[6]; 18. 9391-Joe Duvall, 00:17.414[17]
Dirt on Dirt Qualifying 2 | 00:00:31.396 | Dirt on Dirt
15V-Kolby Vandenbergh, 00:15.052[10]; 2. 25-Chad Simpson, 00:15.150[7]; 3. 15L-Payton Looney, 00:15.181[14]; 4. 10-Jacob Magee, 00:15.287[9]; 5. 1ST-Johnny Scott, 00:15.338[13]; 6. 18-Shannon Babb, 00:15.343[3]; 7. 1X-Aaron Marrant, 00:15.366[6]; 8. 58-Garrett Alberson, 00:15.371[12]; 9. 7-Cole Wells, 00:15.372[16]; 10. 76-Blair Nothdurft, 00:15.416[11]; 11. 21-Billy Moyer Jr, 00:15.456[1]; 12. 96-Dalton Imhoff, 00:15.485[17]; 13. 93-Mason Oberkramer, 00:15.919[2]; 14. 50C-Kayden Clatt, 00:16.081[4]; 15. 26-Glen Powell, 00:16.280[8]; 16. T6-Tommy Sheppard Jr, 00:16.350[15]; 17. 14M-Reid Millard, 00:16.546[5]
---
Article Credit: Billy Rock
Submitted By: Billy Rock
Back to News