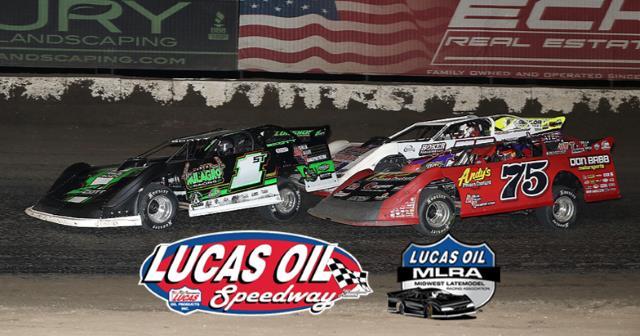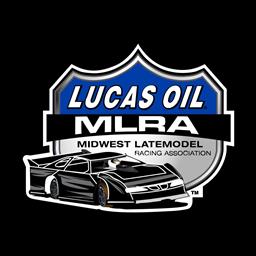 ---
MLRA Returns to Lucas Oil Speedway For 9th Annual Spring Nationals
Wheatland, Missouri (April 19, 2022) – The gates to the Lucas Oil Speedway in Wheatland, MO will swing open up this Friday and Saturday April 22nd & 23rd, as the stars of the Midwest Late Model Racing Association (MLRA) come to town for the 9th Annual Pitts Homes MLRA Spring Nationals.
Recent history has not been kind to the Spring Nationals at the "Diamond of Dirt Tracks", most recently having been contested back in 2017 when Rodney Sanders and Will Vaught each visited Cedar Creek Beef Jerky Victory Lane. Since that time the event has been plagued year after year by mother-nature, along with the Covid pandemic of 2020. Friday night will get the weekend underway with a $5,000 to win main event, leading up to a $7,000 to win weekend finale on Saturday night.
Johnny Scott enters the weekend atop the Midwest Sheet Metal Point Standings after recording a pair of top five finishes, which included scoring his 3rd career MLRA win two weeks ago at the 81 Speedway in Wichita, KS. The Las Cruces, NM native claimed his first career MLRA win in 2020 at the Lucas Oil Speedway, and comes into the weekend holding an early season advantage of 45 points over Bobby Pierce and Tad Pospisil, while brothers Chad and Chris Simpson are tied for 4th and 5th, and just 5 points out of second place.
While the opening weekend at 81 Speedway didn't go as planned for 2021 MLRA Sunoco Race Fuel Rookie of the Year Mason Oberkramer, the 29 year old driver is eager to get his program back on track this weekend. After having to take a provisional in the MLRA opener, the Broseley, MO driver rallied to bring home a 12th place finish, but recorded a rare DNF the following night after being involved in a multiple car incident.
"Wheatland is as good a chance to get back on track as I'm going to get," stated Oberkramer. "I fit that race track well and I usually do good there. With what we have learned with this Rocket (Chassis) car I think it is going to suit us well there this weekend." The two time MLRA winner notched his first career series win in 2020 at the Lucas Oil Speedway during the Ron Jenkins Memorial.
Oberkramer and team have been busy since the start of the year trying to dial in a new XR-1 Rocket Chassis, opening their season in January at the Vado Speedway Park, followed by a trip to East Bay Raceway Park in February. "We had XR-1's back in 17' and it just didn't really fit our driving style or program back then. And now things have kind of changed, I feel I have gotten smarter and everything has evolved a bit differently and I feel like it fits me pretty well."
"Starting at Vado we have probably raced 15 or 16 times, so I think we are starting to get a handle on it. Some of these guys have been in their cars four or five years, so we've just been trying to get as many races under our belt before the regional season actually got started and I hope it pays off," he continued.
This weekend's double header will mark the first of four scheduled visits to the series home track in 2022, which will play host to a total of seven sanctioned events this year. With Lucas Oil Speedway playing such a critical role year after year in determining the series champion Oberkramer is poised to make every lap count.
?
"Everybody wants to win, but I feel that we have been putting in a lot of time and effort to maybe overcome some of this and put ourselves in a spot to win some races this season. Every time we go there (Lucas Oil Speedway) or anywhere and unload that is out mindset to unload with intentions to win, especially after you've had success at a place. We have had lots of signs of speed this year we just need to be able to put a full night together and capitalize on some things so we can get the big check back to the shop," concluded Oberkramer.
Lucas Oil Speedway: Wheatland, MO (Race Day Info)--Friday 4/22/22
Gates: 4:00 PM
Racing: Hot Laps - 6:30 PM, Racing - 7:05 PM
Admission: Adults (16+) $20, Seniors (62+)/Military $17, Youth (6-15) $10, Kids (5 & Under) FREE, Family Pass $50
Support Classes: USRA Modifieds $750 to Win & Show Me Vintage Racers
Website: www.LucasOilSpeedway.com
Lucas Oil Speedway: Wheatland, MO (Race Day Info)--Saturday 4/23/22
Gates: 4:00 PM
Racing: Hot Laps - 6:30 PM, Racing - 7:05 PM
Admission: Adults (16+) $25, Seniors (62+)/Military $22, Youth (6-15) $10, Kids (5 & Under) FREE, Family Pass $60
Support Classes: USRA Modifieds, USRA B-Mods, USRA Stock Cars
---
Article Credit: Billy Rock
Submitted By: Billy Rock
Back to News