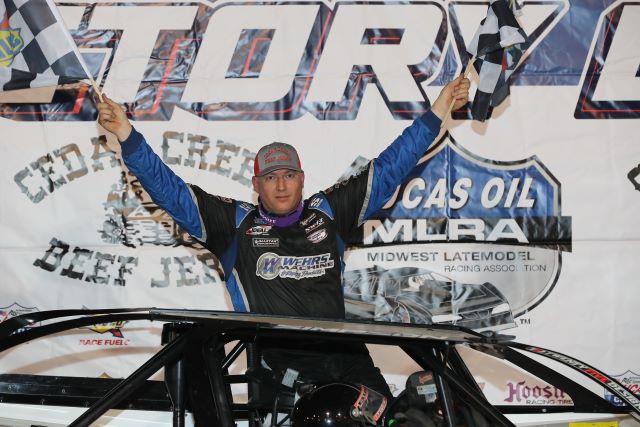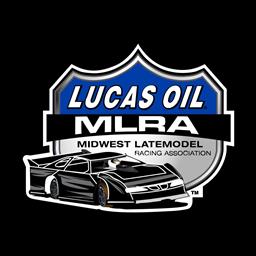 ---
Chad Simpson Captures MLRA Checkers In Davenport Thriller
Davenport, IA (April 13, 2023) – The Davenport Speedway and the drivers of the Lucas Oil MLRA gave fans their moneys worth on Thursday night, as the crowd was treated to a field of 45 of the Midwest best late models. Fans would see Chad Simpson fighting until the very end to capture his 17th career win under the series banner.
The win didn't come easy for the Longhorn Chassis driver who was coming off a runner-up finish in the finale of the MLRA Spring Nationals just two weeks ago at the Lucas Oil Speedway. Simpson led the field to the green from the pole position for the 40 lapper alongside of nine time MLRA winner Ryan Gustin. Simpson charged to the lead at the start, but it would only last for a pair of laps as Chad Holladay took advantage of a Simpson slip to lead laps three and four.
In a race that would see seven lead changes it was a battle from start to finish, with five drivers sharing time in the top spot. Simpson regained the top spot on lap five, leading until lap 23, when Brandon Sheppard shot to the front, quickly distancing himself from the field. Disaster would strike the leader on lap 29 as he slowed entering turn one, a victim of a flat right rear tire.
Shannon Babb, who grabbed the nights MyRacePass Quick Time Award inherited the lead, but cold only hold on for one lap, giving way to Chad Simpson for the third time on the night. Gustin who started P-2 dropped to as low as 8th in the running order on lap 16, but found the high side to his liking and slowly charged his way back towards the front. With just five to go he found the power exiting turn four to snag his first lead of the night.
Lady luck was not done for the night, as with just two laps to go Gustin suffered a flat right rear of his own, leaving him shooting off the edge in turn two, again putting Simpson back at the point. With just two laps to go, Chad Simpson raced to his second MLRA win at the Davenport Speedway, making it a Simpson 1-2 finish with brother Chris coming home in the runner up spot. Babb rounded out the podium in third while Jake Timm and Chad Holladay completed the top five.
Simpson's second podium finish of the year puts the Midwest Sheet Metal Spoiler back on the Deuce Nickel as the series heads off to the 34 Raceway on Friday night. "We've got a good hot rod here," exclaimed Simpson. I was a little nervous coming back here, last year when we were here we were in that fence over there upside down."
"I was just too tight really all night long, and we freed it up a little bit for the feature which was something I probably should have never did," he continued of his back and forth battle for the $5,000 to win main event. "It just kind of laid on the right rear a little bit too much, but I can't thank Eric and Brandon with Wells Motorsports enough for helping me on this car. Bill with Pro Power was here tonight and the motor ran great, and just everybody that helps on this thing. Everybody does an outstanding job helping out with this deal and they are the ones that allow me to stand up here."
The defending MLRA champion will go into Friday nights Slocum 50 as one of the favorites to win, looking for his first Slocum trophy. "That's one we have been hunting for a long time," he noted of the $10,555 main event. "We've had a lot of seconds and thirds in that event and I feel like this year we got a car that will get us that one more spot."
Brother Chris Simpson joined the winner on the podium. "We were good, I just couldn't figure out this thing," said Chris Simpson. "Ricky (Kay) had this thing a little tricky tonight, I've never seen it like that. Usually there is a moisture ring right around the bottom you can ride around but it had a little shined up spot around the middle of three and four you just kind of had to swing out and catch the moisture off. Congrats to Chad, he has had some tough luck here, so it was good to see him win."
Lucas Oil MLRA action continues on Friday night April 14th, at the 34 Raceway in West Burlington, IA. Due to increased chances of rain moving in early on Saturday, track and series officials have moved Saturday nights "Slocum 50" paying $10,555 up to the Friday night portion of the weekend. Saturday nights action is still on as scheduled at this time and will pay $5,000 to win, the original "Prelude to the Slocum". Hot laps are schedule for 6:00 pm both nights with racing action set for 7:15 pm.
Davenport Speedway Contingencies 4/13/23
Lap Leaders – Chad Simpson (1 -2), C. Holladay (3-4), Chad Simpson (5-22), B. Sheppard (23-29), S. Babb (30), Chad Simpson (31-34), R. Gustin (35-38), Chad Simpson (39-40)
Cautions – 6
MyRacePass "Overall Fast Time Award" – Shannon Babb (13.852 sec.)
Performance Bodies "Performer of the Race" – Chad Simpson
Outerwears Crew Chief of the Race – Waylon Schultz
MD3 "Hard Charger of the Race" – Jeff Herzog (+16)
Swift Springs "Move of the Race" – Chris Simpson
Sunoco Race Fuel "Rookie of the Race" – Tyler Stevens
Hooker Harness "11th Place Finisher" – Tyler Stevens
PEM Racing "4th Place Finisher" – Jake Timm
Sunoco "Engine Builders Challenge" – Pro Power
Midwest Sheet Metal "Points Leader Spoiler Challenge" – Chad Simpson
MSD Performance Holley: "1st B-Main NON-Qualifier" – Ryan Unzicker
A Feature Cedar Creek Beef Jerky 40 Laps | 00:35:03.060
25-Chad Simpson[1]; 2. 32S-Chris Simpson[9]; 3. 18-Shannon Babb[5]; 4. 49T-Jake Timm[7]; 5. 32C-Chad Holladay[3]; 6. 4G-Bob Gardner[21]; 7. 11H-Jeff Herzog[23]; 8. 25F-Jason Feger[13]; 9. 22-Daniel Hilsabeck[15]; 10. (DNF) 19R-Ryan Gustin[2]; 11. (DNF) 2-Tyler Stevens[14]; 12. (DNF) 8-Dillon McCowan[22]; 13. (DNF) 21B-Rich Bell[19]; 14. (DNF) B5-Brandon Sheppard[4]; 15. (DNF) 56JR-Tony Jackson Jr[17]; 16. (DNF) 29D-Spencer Diercks[11]; 17. (DNF) 58-Garrett Alberson[8]; 18. (DNF) 93-Mason Oberkramer[20]; 19. (DNF) 21M-Billy Moyer Sr[10]; 20. (DNF) 78S-Steve Stultz[26]; 21. (DNF) 07-Matt Ryan[12]; 22. (DNF) 15K-Justin Kay[18]; 23. (DNF) 15V-Kolby Vandenbergh[24]; 24. (DNF) 14G-Trevor Gundaker[25]; 25. (DNF) 16T-Tyler Bruening[6]; 26. (DNF) 28-Dustin Sorensen[16]
B Feature 1 Sunoco 10 Laps | 00:05:10.460
56JR-Tony Jackson Jr[1]; 2. 21B-Rich Bell[3]; 3. 4G-Bob Gardner[4]; 4. 24-Ryan Unzicker[10]; 5. 15-Justin Duty[2]; 6. 99-Andy Eckrich[5]; 7. T6-Tommy Sheppard Jr[7]; 8. 33F-Rickey Frankel[6]; 9. 22H-Dustin Hodges[9]; 10. 11H-Jeff Herzog[8]; 11. 10T-Jeff Tharp[11]; 12. 40C-Joel Callahan[13]; 13. (DNF) 21D-Darrin Burke[12]; 14. (DNS) 15V-Kolby Vandenbergh
B Feature 2 Hoosier 10 Laps | 00:05:48.528
15K-Justin Kay[1]; 2. 93-Mason Oberkramer[3]; 3. 8-Dillon McCowan[2]; 4. 77Y-Jordan Yaggy[7]; 5. 14G-Trevor Gundaker[4]; 6. 30-Todd Cooney[5]; 7. 42-Johnathan Huston[6]; 8. 12-Brandon Queen[8]; 9. 78S-Steve Stultz[10]; 10. 7D-Dusty Leonard[14]; 11. 17-Tim Simpson[9]; 12. 50-Kayden Clatt[11]; 13. (DNF) 3W-Brennon Willard[13]; 14. (DNS) 48-Tim Lance; 15. (DNS) 51F-Matt Furman
Heat 1 Midwest Sheet Metal 8 Laps | 00:04:07.370
25-Chad Simpson[2]; 2. 18-Shannon Babb[1]; 3. 32S-Chris Simpson[3]; 4. 25F-Jason Feger[5]; 5. 56JR-Tony Jackson Jr[7]; 6. 21B-Rich Bell[4]; 7. 99-Andy Eckrich[6]; 8. T6-Tommy Sheppard Jr[9]; 9. 22H-Dustin Hodges[10]; 10. 10T-Jeff Tharp[8]; 11. 40C-Joel Callahan[11]
Heat 2 Hooker Harness 8 Laps | 00:03:09.731
32C-Chad Holladay[5]; 2. 49T-Jake Timm[1]; 3. 29D-Spencer Diercks[4]; 4. 22-Daniel Hilsabeck[3]; 5. 15-Justin Duty[8]; 6. 4G-Bob Gardner[7]; 7. 33F-Rickey Frankel[9]; 8. 11H-Jeff Herzog[11]; 9. 24-Ryan Unzicker[2]; 10. 21D-Darrin Burke[10]; 11. (DNF) 15V-Kolby Vandenbergh[6]
Heat 3 PEM 8 Laps | 00:03:08.972
19R-Ryan Gustin[1]; 2. 16T-Tyler Bruening[3]; 3. 21M-Billy Moyer Sr[2]; 4. 2-Tyler Stevens[7]; 5. 15K-Justin Kay[4]; 6. 93-Mason Oberkramer[5]; 7. 30-Todd Cooney[10]; 8. 77Y-Jordan Yaggy[8]; 9. 17-Tim Simpson[11]; 10. 50-Kayden Clatt[12]; 11. 3W-Brennon Willard[9]; 12. 48-Tim Lance[6]
Heat 4 Fast Shafts 8 Laps | 00:03:43.951
B5-Brandon Sheppard[1]; 2. 58-Garrett Alberson[3]; 3. 07-Matt Ryan[2]; 4. 28-Dustin Sorensen[5]; 5. 8-Dillon McCowan[9]; 6. 14G-Trevor Gundaker[7]; 7. 42-Johnathan Huston[6]; 8. 12-Brandon Queen[11]; 9. 78S-Steve Stultz[10]; 10. 51F-Matt Furman[4]; 11. (DNS) 7D-Dusty Leonard
---
Article Credit: Billy Rock
Submitted By: Billy Rock
Back to News