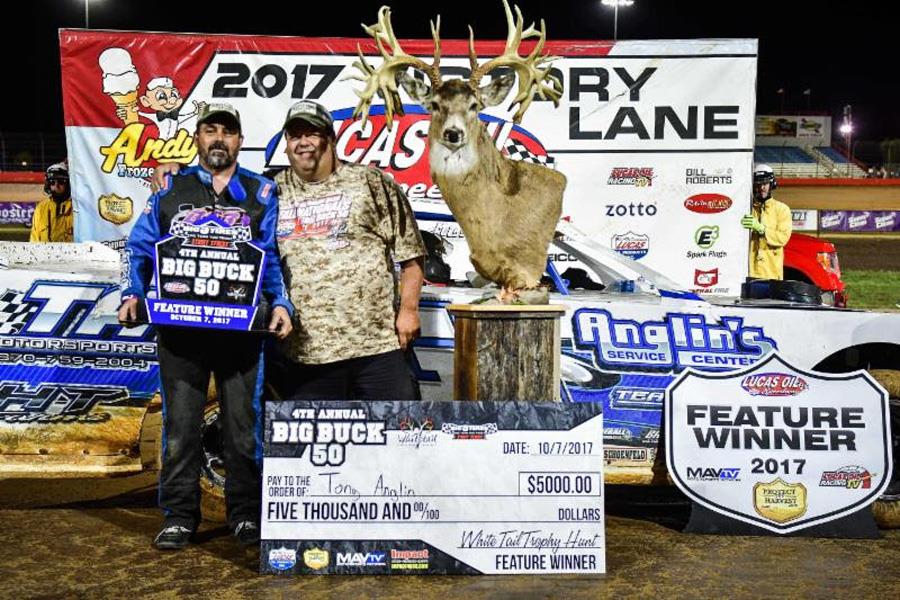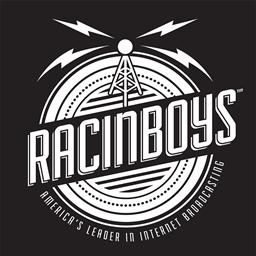 ---
Stovall, Anglin shine at Lucas Oil Speedway
By Lyndal Scranton (Wheatland, MO) -- Jesse Stovall finished off a frustrating Lucas Oil MLRA Late Model season on a high note Saturday night, leading all 50 laps to capture the 4th annual Fall Nationals finale at Lucas Oil Speedway.
Meanwhile, Terry Phillips wrapped up his fourth MLRA championship as the series schedule came to a conclusion in front of a big crowd.
PHOTO: Tony Anglin took command with 11 laps remaining and went on to win the Big Buck 50 at Lucas Oil Speedway--CREDIT: Kenny Shaw photo
In the co-headliner, Tony Anglin of Walnut Ridge, Ark., took command with 11 laps remaining and pulled away to capture the $5,000-to-win Street Stocks Big 50 Presented by Whitetail Trophy Hunt.
Stovall, the 2016 MLRA champion from Billings, Mo., earned $5,000 for his first series win this season. He suffered a concussion after flipping his car in a mid-summer practice accident in Nebraska and missed a race.
He also suffered a mechanical failure with one lap to go, while leading the Larry Phillips Memorial at Lucas Oil Speedway, on Sept. 2. Early in Friday's Fall Nationals opening feature, Stovall hit the wall while battling for second place.
"I've had a heck of a year since I had that flip and I can't seem to put anything together," Stovall said. "This is really satisfying to finally get it done."
Stovall, driving a Black Diamond chassis, was the class of the field from the outset, beating fellow front-row starter Dave Eckrich to lead the first lap.
Austin Siebert moved into second with Tony Jackson Jr. third and Billy Moyer fourth when a lap nine caution bunched the field behind Stovall.
Stovall quickly opened up nearly a straightaway-margin lead over Siebert and Moyer when another caution came out on lap 17 as Tad Pospisil slowed in turn four.
By the time the race reached the midpoint on lap 25, Stovall was a full straightaway in front of Moyer, Siebert and Chad Simpson and just getting ready to enter lapped traffic. One lap later, Martin spun and brought out the fifth caution of the event to wipe out Stovall's large lead.
It didn't matter. Stovall checked out after the restart and, as the race went green the rest of the way, finished well ahead of Moyer with Simpson third and Jack Sullivan fourth. Randy Timms, winner of Friday's feature, was fifth.
"This has been the most trying year I've had," Stovall said. "It's very difficult for me and for everybody involved to try and run two cars out of one trailer. It's definitely been a learning curve. All in all, I can't say it's been a good year because it really hasn't been - until now.
"It's a good way to end the year. This series has been more than good to me."
Stovall congratulated his good friend Phillips, of Springfield, Mo., in post-race ceremonies.
"This guy, he's a hell of a racer," Stovall said. "He's a road warrior and he's taught me a lot and congrats to him."
Phillips, who finished 14th in Saturday's feature, made light of his ongoing struggles at Lucas Oil Speedway. But he was relentless in is Black Diamond with his consistency in 2017, winning four times along the way en route to his fourth career MLRA championship.
"We've had some good wins this year," Phillips said. "It's been a long year and Jesse had some bad luck. It's just a long grind. When we get this place figured out, we'll surely be better. I just want to thank everybody on this car. It takes everybody to make this operation go."
Phillips now has won 10 regional Late Model touring series titles, counting six in the MARS Dirt-Car Series. He credited his late father, short-track legend Larry Phillips, for instilling the determination in him to achieve success.
"I learned this racing deal from the best racer that's ever been, my dad. I just try to make him proud every day," Phillips said.
Rodney Sanders of Happy, Texas, finished 18th in the feature but wrapped up the Sunoco Race Fuels Rookie of the Year honors. Sanders also finished runner-up to Phillips in the points chase.
Anglin captures Big Buck 50: The sixth lead change of the race was decisive as Tony Anglin went in front with 11 laps remaining. From there, he pulled away to win by nearly a straightaway over runner-up Derek Brown and third-place Jeremy Russell.
In addition to the $5,000 winner's check, Anglin earned a free entry valued at $3,000 into the Whitetail Trophy Hunt later this fall.
"Man, that was one good show there," Anglin said. "I didn't know whether to go to the bottom or go to the top. Them ruts were beating me to death.
"I struggled Thursday night (in practice) and Friday night in qualifying. We just threw a bunch of stuff at it this afternoon and here we are."
Anglin passed Derek Brown in turn two on lap 39 to take the lead. Just three laps before that, Brown slid past Anglin after Anglin did the same to him a lap before.
Fifth in the Big Buck 50 a year ago, Anglin had plenty in reserve down the stretch. Brown, who suffered damage to the nose of his car in a first-lap incident, barely held off Russell in the battle for second.
"We run at Batesville a lot and it's top-notch competition there," Anglin said. "Man, I don't know what to say about this. We're just glad to be here."
Defending Big Buck 50 winner Tim Brown moved quickly from his outside row two starting spot and led the opening lap, just ahead of pole-starting Peyton Taylor and Robbie Arnold.
Derek Brown slipped past Tim Brown and into the lead on lap 17. The battle for second was a hot one with Tim Brown, Burl Woods, Jeremy Russell and Anglin dueling it out.
But on lap 28, the race lost two contenders. Woods appeared to hit the big tire guarding the infield, in turn four, and Tim Brown plowed into the back of him to bring out the caution.
That left Derek Brown leading Anglin, Russell, James Flood and Kenny Carroll as the race went back to green with 22 laps remaining. Derek Brown and Anglin went back and forth until the eventual winning pass on lap 39.
Taylor, of Ash Flat, Ark., had fast qualifying time on Friday night and earned the pole position for the feature by winning his heat winners' dash on Friday. He was battling Tim Brown for the lead in the early going, but pulled off on lap nine with a flat tire and again, this time for good, with mechanical issues on lap 12.
Fourth-place finisher Edwin Wells of Morrilton, Ark., who started 22nd, won the "Hard Charger" Award sponsored by Ray's Lake Service worth $500.
Doug Moore earned the "Hard Luck" Award as the first non-feature qualifier for the Big Buck 50. He earned a $500 bonus from Alamo Arms LLC, of Montreal, Mo.
Big Buck 2018 getting bigger: Lucas Oil Speedway General Manager Dan Robinson announced on Saturday that the 2018 Big Buck 50 Presented by Whitetail Trophy Hunt will pay $10,000 to win and become a three-day show - Oct. 4-6 - with the ULMA Late Models co-headlining, with full shows both nights.
The Lucas Oil MLRA Fall Nationals will be run a week later, Oct. 12-13 of 2018. Support classes for that weekend will be determined at a later date.
LUCAS OIL SPEEDWAY RESULTS (October 7, 2017)
Street Stocks Big Buck 50 Presented by Whitetail Trophy Hunt
A Feature - 1, Tony Anglin. 2, Derek Brown. 3, Jeremy Russell. 4, Edwin Wells. 5, Brian Schutt. 6, Robert Arnold. 7, Ted Welschmeyer. 8, Dalton Imhoff. 9, Brian Worley. 10, Jason Winkle. 11, Bobby Barnett. 12, Josh Halbrook. 13, Matt Becker. 14, Dalton Garrison. 15, James Flood. 16, Kenny Carroll. 17, Burl Woods. 18, Tim Brown. 19, Kris Lloyd. 20, David Hendrix. 21, Dale Nelson. 22, Jimmy Myers. 23, Brian Parker. 24, Payton Taylor. 25, Toby Ott. 26, Kyle Slader.
B Feature (top 8 advance) - 1, Tony Anglin. 2, Jimmy Myers. 3, Ted Welschmeyer. 4, Dalton Garrison. 5, Toby Ott. 6, Edwin Wells. 7, Kyle Slader. 8, Kris Lloyd. 9, Doug Moore. 10, Bobby Ratteree. 11, Terry Schultz. 12, Dennis Schoenfeld. 13, Jessie Shearin. 14, Cole Henson. 15, Heath Teel. 16, Aaron Poe. 17, Scott Johnson. 18, Mike Striegel. 19, Jeff Floyd. 20, Rob White. 21, Darrin Crisler. 22, Derek Henson.
C Feature (top 6 advance) - 1, Mike Striegel. 2, Rob White. 3, Kyle Slader. 4, Jesse Shearin. 5, Cole Henson. 6, Scott Johnson. 7, Bobby Barnett. 8, Robert Southerland. 9, Marlin Cathey. 10, Chip Shaddox. 11, Shane Bias. 12, Tim Petty. 13, Randy Gilmore. 14, Cody Nelson. 15, Jay Lamons. 16, Justin Jarrett. 17, Jason Thurman. 18, Dexter Frost. 19, Dom Wadlow. 20, Bryan Arnold. 21, Whitney Nunally. 22, Evan Hayes.
D Feature (top 6 advance) - 1, Chip Shaddox. 2, Whitney Nunally. 3, Martin Cathey. 4, Jay Lamons. 5, Bryan Arnold. 6, Evan Hayes. 7, Josh Halbrook. 8, Chuck Knight. 9, Tim Eaton. 10 John Kelly. 11, Ray Phipps. 12, Michael Muskrat. 13, Chris Tonoli. 14, Michael Mullins. 15, Travis Goodman. 16, Darren Fox. 17, Steve Scott. 18, Cody Vail. 19, Dale Berry. 20, Steve Whitman. 21, Dale Eaton. 22, Kiel Morton.
E Feature (top 6 advance) - 1, Kiel Morton. 2, John Kelly. 3, Jay Lamons. 4, Dale Eaton. 5, Chuck Knight. 6, Michael Musktra. 7, Drayl Dooling. 8, Rusty Etherton. 9, Devin Irvin. 10, Stewart Burton. 11, John Scott. 12, Scott Lucke. 13, Nicholas Fritsch. 14, Jake Haynes. 15, Carmon VIncent. 16, Joe Miller. 17, Terry Muskrat. 18, Steve Sanders. 19, Bobby Ruff. 20, Jerry Brown. 21, Brandon Dunhan. 22, John Coats.
F Feature (top 6 advance) - 1, Chuck Knight. 2, John Scott. 3, Carmon Vincent. 4, Stewart Burton. 5, Joe Miller. 6, Daryl Dooling. 7, Tony Bowman. 8, Matt Harp. 9, Ethan Mullins. 10, Brandon Hays. 11, Larry Ferris. 12, Mark Mullins. 13, Marc Carter.
Lucas Oil MLRA Fall Nationals
A Feature - 1, Jesse Stovall. 2, Billy Moyer. 3, Chad Simpson. 4, Jack Sullivan. 5, Randy Timms. 6, Mason Oberkramer. 7, Brent Larson. 8, Austin Siebert. 9, Chase Junghans. 10, Tim Manville. 11, Payton Looney. 12, Jeremy Grady. 13, Cade Dillard. 14, Terry Phillips. 15, Tony Jackson Jr. 16, Logan Martin. 17, Raymond Merrill. 18, Rodney Sanders. 19, Tad Pospisil. 20, Jason Rauen. 21, Dave Eckrich. 22, Rickey Frankel. 23, Jake Davis. 24, Kaeden Cornell.
Heat one - 1, Dave Eckrich. 2, Chad Simpson. 3, Brent Larson. 4, Payton Looney. 5, Matt Furman. 6, Logan Martin. 7, Robby Moore. 8, Cole Wells.
Heat two - 1, Jesse Stovall. 2, Rickey Frankel. 3, Jake Davis. 4, Terry Phillips. 5, Cade Dillard. 6, Tad Pospisil. 7, Bill Leighton Jr.
Heat three - 1, Tony Jackson Jr. 2, Billy Moyer. 3, Jack Sullivan. 4, Kaeden Cornell. 5, Chase Junghans. 6, Tim Manville. 7, Jeremy Grady. 8, Cliff Morrow.
Heat four - 1, Austin Siebert. 2, Mason Oberkramer. 3, Randy Timms. 4, Raymond Merrill. 5, Jason Rauen. 6, Todd Shute. 7, Rodney Sanders.
B Feature - 1, Dillard. 2, Martin. 3, Rauen. 4, Junghans. 5, Pospisil. 6, Manville. 7, Furman. 8, Grady. 9, Moore. 10, Shute. 11, Leighton Jr. 12, Wells. 13, Sanders. 14, Morrow. 15, Wyman.
Monster Truck Nationals: The final event this season at Lucas Oil Speedway is the Monster Truck Nationals "Eve of Destruction" on Oct. 21. Gates will open at 4 p.m. with a pit party from 5-6:30 p.m. and showtime at 7. Pit admission is included in the ticket price.
For ticket information for all Lucas Oil Speedway events, contact admissions director Nichole McMillan at (417) 282-5984 or via email at nichole@LucasOilSpeedway.com.
Complete Lucas Oil Speedway event information, archived stories, ticket info and schedules can be found by visiting http://www.LucasOilSpeedway.com.
Lucas Oil Speedway is located at Highways 83 and 54 in Wheatland, Missouri. A campground with shower and bathroom facilities is also available. With its entrance located just outside the pit gate this sprawling scenic camping facility will continue to enhance the racing experience at the Diamond of Dirt Tracks.
Click http://www.LucasOilSpeedway.com for more information and detailed directions to the speedway or call the Track Hotline at (417) 282-5984.
In addition, fans can get social with Lucas Oil Speedway by following @LucasSpeedway on Twitter, clicking "Like" at http://www.facebook.com/LucasOilSpeedway and on http://www.youtube.com/LucasOilSpeedway
---
Submitted By: Kirk Elliott
Back to News